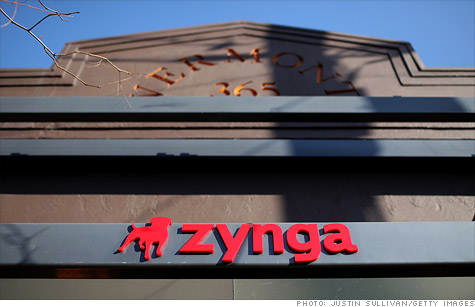 NEW YORK (CNNMoney) -- Zynga's first quarter results edged past analysts' expectations, pushing shares of the company that has a lot riding on the continued success of Facebook higher.
The casual gaming pioneer, best known for its -Ville franchises like FarmVille, reported sales of $329 million for the quarter ended March 31. That topped the $317 million in sales that analysts polled by Thomson Reuters were predicting.
The company reported a net loss of $85 million. But excluding stock compensation costs, Zynga reported a profit of 6 cents per share, a penny higher than consensus forecasts.
The company's "monthly active users," a closely watched metric tracking how many people are playing Zynga's games, reached 65 million in the first quarter -- up 6% compared to a year earlier.
Zynga's (ZNGA) stock rose 2% in after-hours trading. But shares are down slightly year-to-date even as many tech stocks have rallied.
It's been a busy couple months for the gaming company. In March, Zynga snapped up OMGPop, the maker of the hit game "Draw Something." Within six weeks of launching, the game had been downloaded 35 million times and topped the app bestseller lists in Apple's (APPL) iTunes App Store and Google's (GOOG, Fortune 500) Play store.
It was a strategic move for Zynga, which needs to prove to investors that there is more to it than Facebook, the social networking giant that is preparing to go public.
In an updated filing with the SEC on Monday, Facebook revealed that around 15% of the its revenue stemmed from Zynga in the first quarter of 2012. That is down from 19% of Facebook's revenue a year earlier.
In February, Zynga's quarterly results showed compensation expenses ate through its profit. For the full 2011 fiscal year, Zynga posted a net loss of $404 million on sales of $1.2 billion. That was Zynga's first earnings report since going public in December.
During the earnings call, Zynga CEO Mark Pincus emphasized the company's push towards mobile gaming and focused on the acquisition of Draw Something as a strategic move to enter the realm.
"This game dramatically increases the size of our mobile network," he said.
Executives on the call said users can expect more mobile releases in 2012.
Mobile has been a continued focus for large companies. Just recently, Facebook acquired mobile app Instagram for $1 billion -- it's a move many say was a push to own both the photo-sharing space and carve out a spot in the mobile realm.
"We think mobile is in a similar place to where we saw the web [years ago]," Pincus said.