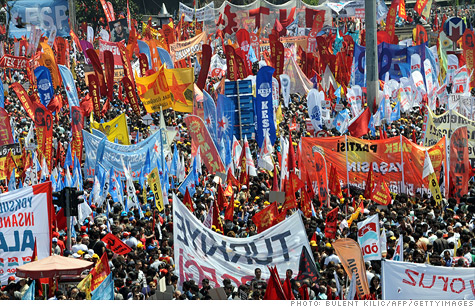 Thousands of protesters gathered in Taksim Square in Istanbul for May Day protests, which have resulted in fatal violence in the past.
NEW YORK (CNNMoney) -- Occupy May Day went global on Tuesday, as demonstrations stretched from California to New York and from Europe to the Caribbean.
Occupy San Francisco got an early start to the traditional May Day workers' protest, kicking off its organized rally at 8 p.m. local time on Monday.
"San Francisco, once a stronghold of the dispossessed, has become a playground for the rich and a living hell for those of us who can't keep up or have no interest in capitalist relations," Bay Area protest organizers said in a statement.
On Tuesday, rush hour traffic was flowing on the Golden Gate Bridge, despite protesters' threats to shut it down.
In Southern California, protesters scheduled a rally against allegedly unfair labor practices at Los Angeles International Airport, according to Occupywallst.org.
An airport police spokeswoman said the gathering proceeded without any disruption to airport operations.
In Seattle, police reported several arrests Tuesday evening after confrontations between officers and demonstrators. Offenses included vandalism and striking an officer.
In New York, Occupy Wall Street planned protests at bridges and tunnels, with picket lines slated at the Chase Building, the New York Times building, Sotheby's and Manhattan's main U.S. Post Office.
Hundreds of protesters marched south from Bryant Park in midtown Manhattan to downtown's Union Square. The crowd that gathered in Union Square grew to about 1,000 people later in the day, as the weather improved.
At least 50 people were arrested and that number is expected to increase, according to an NYPD spokesperson. The majority of the arrests were for disorderly conduct and resisting arrest.
Protestors were arrested on the Williamsburg Bridge, at Union Square during a rally and during a protest march from Union Square to Wall Street Tuesday evening, according to the spokesperson.
Most of the individuals were charged with disorderly conduct and no NYPD officers were injured.
Global protests
May Day protests were also held in Greece and Turkey. Two thousand people gathered in Syntagma Square in Athens, and another 7,000 protesters gathered outside a factory where employees haven't been paid in six months, according to their union.
Thousands of protesters in Istanbul's central Taksim Square were met with a police presence.
Marches were also planned to Trafalgar Square in London, where police closed streets and arrested three men in Exchange Square outside Liverpool Street, according to the London Police.
"The popular media narrative is that Occupy is dead, but what we're here to show is that that's far from the truth," said Occupy Wall Street spokesman Mark Bray. "The issues that we're talking about are too important to go away."
Bray said that Occupy has united with workers' unions and immigrant rights groups "to show that the 99% is what really drives this country."
The rain let up in the afternoon, when Occupywallstreet.org reported that there were "several marches still on the move across NYC."
In Washington, Occupy demonstrators marched from McPherson Square near the White House to the lobby of a downtown office building Monday afternoon. The building includes UBS, a source of capital to finance strip mining.
One of the demonstrators dumped a bag of coal on the marble floor as members of the group took turns leading protest statements.
May Day has historically been a day of protests in some countries outside of the U.S. On Tuesday, workers marched in Moscow and Havana and protested in Madrid.
The Occupy movement had organized protests in 125 U.S. cities, according to Occupywallst.org. The theme was a general work strike to create "a day without the 99%" -- no work, no shopping, no banking.
History of Occupy: Occupy, which got its start last year, bills itself as leaderless, and opponents criticized it for a perceived lack of concrete goals. But it found solidarity in labor unions and other activist groups, and the movement spread quickly through social media.
The first Occupy event began when hundreds of protesters descended on the nation's financial center on Wall Street last September.
A few weeks after it began, Occupy Wall Street faced the first of a series of evictions from its home base in a lower Manhattan park. But protesters regrouped in other areas.
And by then, solidarity protests had popped up in San Francisco, Denver, Los Angeles, Boston and Chicago, among other cities.
The relative calm of the protests began to shatter in October, when hundreds were arrested on the Brooklyn Bridge as part of Occupy Wall Street.
Also in October, the site in Oakland became violent when police used tear gas after protesters reportedly threw paint and other objects at officers. Major clashes between police and protesters have taken place in Oakland since that event, and hundreds of people have been arrested.
Critics questioned whether those skirmishes would derail Occupy, and whether protesters would be willing to remain outside in the winter. But Occupy sites in many cities remain active -- perhaps helped by unseasonably warm weather.
-- CNN's Poppy Harlow and Paul Courson, CNNMoney's Julianne Pepitone, and CNN International's Maggie Lake and Ivan Watson contributed to this report.