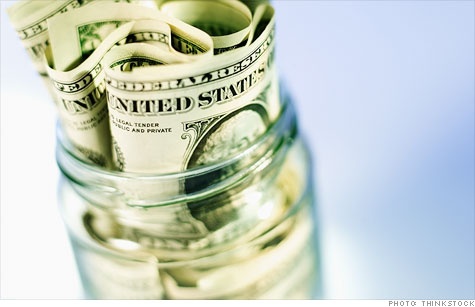 The SEC wants to overhaul money-market funds. For now there are better choices.
(MONEY Magazine) -- Money-market funds used to be boring -- and investors loved them that way. You could earn bank-beating yields with little risk, even if the funds weren't backed by FDIC insurance.
Then came the financial crisis, which put the lock-tight safety of some funds in doubt, followed by rock-bottom yields. A year's interest on $10,000 in a money fund might buy you a latte. (Thanks, Federal Reserve!)
Now the Securities and Exchange Commission is talking about new rules for money-market funds, which could make you rethink where you put money you want to keep safe. But for the time being, you're often better off holding cash elsewhere.
The other bailout
Money-market funds (as opposed to bank money-market accounts) are mutual funds that invest in low-risk securities and aim for a steady net asset value of $1 per share -- meaning your principal shouldn't waver.
In the crisis, a well-known fund dropped below $1. Investors then pulled out of other money funds, risking a nonbank bank run if funds had to sell assets fast. So Washington gave funds a temporary FDIC-like guarantee, which ran out in 2009.
Now the SEC is considering eliminating the $1-per-share expectation. Instead, you would see funds' value float, like stock and bond funds do. The thinking is that shareholders might be less likely to race for the door at the first sign of a dip below $1. And investors would also get a signal that even if a money-market fund is very low risk, you can't think of it as a bank.
Another proposal would make funds keep a capital buffer and hold back 3% of investors' money for 30 days after redemption.
So what now?
Fund companies are lobbying hard against these ideas, but it's likely that some new rules will be adopted eventually, says Peter Crane of money-fund tracker Crane Data. While D.C. squabbles, here's how to handle your cash:
Banks are the best bet now. FDIC-insured savings and money-market accounts pay higher yields than money funds at the moment. Money funds can still be convenient for brokerage sweep accounts or to funnel money into mutual funds. But limit them to 2% of your portfolio, says Odenton, Md., adviser Jim Ludwick.
When interest rates rise, move in. You'll see a faster yield uptick in money-market funds than in banks. Caveat: They'll probably be slower than they used to be to pass along higher rates, says Mike Krasner, managing editor of iMoneyNet. That's partly because of tighter investment rules the SEC has already put in place, and partly because fund companies want to make up fees they waived during this ultra-low-rate era. Just one more hangover from the financial crisis.
The incredible shrinking yield
August 2008 (before the crisis)
Money-market funds average yield: 1.9%
Banks average yield: 0.7%
March 2012
Money-market funds average yield: 0.03%
Banks average yield: 0.14%
Note: Bank average for savings and money-market accounts. Sources: Bankrate.com, iMoneyNet
Do you know a Money Hero? MONEY magazine is celebrating people, both famous and unsung, who have done extraordinary work to improve others' financial well-being. Nominate your Money Hero.