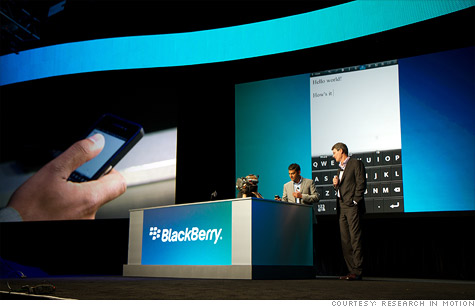 RIM CEO CEO Thorsten Heins showed off the company's long-delayed BlackBerry 10 platform at RIM's developer conference.
NEW YORK (CNNMoney) -- The long-awaited BlackBerry 10 took a step closer to becoming reality on Tuesday, when Research In Motion made an early version available to developers.
RIM (RIMM) claims that BlackBerry 10 will put its smartphone platform on par with those that have outpaced it -- Apple's (AAPL, Fortune 500) iPhone and Google's (GOOG, Fortune 500) Android -- but the software has been chronically delayed.
It is now scheduled to be released to the public in the fall. Meanwhile, BlackBerry's market share is in freefall.
RIM gave the world the first glimpse at its make-or-break software at the company's annual BlackBerry World developers conference on Orlando. As CEO Thorsten Heins showed off some of BlackBerry 10's capabilities, each feature drew enthusiastic applause from the attendees.
The most impressive new feature is BlackBerry's redesigned user interface. The clean design features "cascades," which let users flip through apps with a simple swipe gesture, replacing a back key or physical button.
By swiping left, a user can navigate to the previous screen or app, and by swiping right, a user can jump forward.
"No one else can do this," Heins stated proudly at the event. He described the capability as being able to "float through menus." All the apps continue to run in the background, finally bringing true multitasking to BlackBerry apps.
The keyboard has always been one of BlackBerry's strengths, but the smartphone world is trending towards typing on glass. RIM said it is determined to maintain its competitive advantage. It demonstrated several improvements to its on-screen keyboard software, including gestures that make one-hand typing a bit easier.
As a user types, the keyboard begins to predict the next word that will be entered, which can be selected by tapping that word as it appears and swiping up. Users can swipe across the keyboard to the left to delete a word, and gestures can be used to type in numbers and punctuation.
RIM also unveiled a cool new feature for its camera software -- a key fixture in the latest smartphones, but one on which BlackBerry has fallen behind the curve.
BlackBerry 10 devices will begin taking temporary photos in the background when the camera app is opened. That's a feature available on some of the newest Android phones from HTC. But RIM took it a step further: If someone was blinking in a photo, a user can tap on that person's face and scroll back in time to find an image where the person had their eyes open.
Beyond those three features, RIM didn't demonstrate much -- and it didn't show off anything revolutionary.
Even if the remaining features and capabilities impress, RIM faces a steep uphill battle. It is now in a distant fourth place in the smartphone race, trailing Samsung, Apple and even lowly Nokia (NOK), according to a report from IDC released Tuesday.
RIM continues to preach patience, arguing that its transition to BlackBerry 10 will be slow going but that it will ultimately gain traction.
Of course, it has to release the software first.