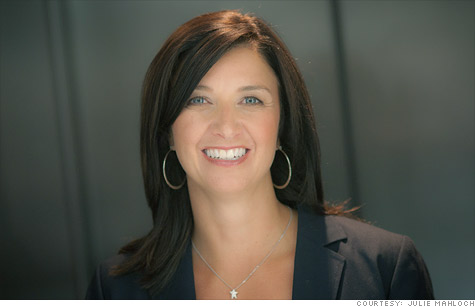 Julie Mahloch made a million dollars in revenue with her interactive website catering to the beauty needs of mature women.
NEW YORK (CNNMoney) -- When Julie Mahloch turned 40 in 2009, she was shocked to discover her beauty questions were no longer easily answered by fashion magazines or online beauty forums.
"You open a magazine and there's always top products recommended by the editors, but it doesn't always apply to you," she said. "I didn't want to put out on Facebook that I have anti-aging concerns."
Mahloch knew others felt the same way. In 2010, the seasoned Internet businesswoman started Bloom.com, an interactive site catering to beauty needs for mature women. Products from 150 brands are sold through the site, but it's the interactive feature that makes Bloom.com stand out. Women can network with other women who have similar beauty needs by seeing what they've purchased and reading their product reviews.
Last December, Bloom.com crossed over the $1 million in revenue mark. "It was an exciting time," said Mahloch. "It was Christmas, and we were growing rapidly." The milestone was hit after Bloom.com snagged its 100,000th member.
Bloom.com does more than match women with the right lipstick shade. Users can upload photos and videos to help illustrate success with a specific branded product, whether it's battling an oily complexion or firming up under-eye circles. Women with similar beauty needs are automatically "matched," giving them the ability to read each other's product reviews and see what they are buying. A list of recommended products is generated through the site too.
According to a report released by Total Beauty Media Group in January, women trust peer-based product reviews more than all other types of reviews and spend 50 percent more time researching products online than they do consulting editorial reviews or consumer ratings.
With no competitive model to consult, everything was done on faith: "There's no real road map," said Mahloch. "We have to make a lot of assumptions and be able to quickly react when those assumptions are wrong."
Bringing ambassadors -- professional beauty consultants and make-up artists -- on the site in April was key to gaining users' trust and also, creating a forum with professionals.
Abby Esbenshade, 24, is a Boston freelance makeup artist and one of those ambassadors. "It's unlike Sephora or Ulta where you're just reading customer reviews and you have no idea who they are," she said. "It's much more personal."
Mahloch knows that in the fast-paced world of the Internet, it is important to keep her technology up-to-date. "Every week, new features are rolling out," she said.
Mahloch came to her entrepreneurial venture with experience and capital. She co-founded and grew Hayneedle.com, an online furniture retailer based in Omaha, into a company with 500 employees. In 2009, she left to become a stay-at-home mom. But her zest for entrepreneurism never faded.
She threw a few million of her own dollars into Bloom.com, in addition to calling upon a few family members and local investors. In February, she raised $5.4 million in a first round of funding from venture investors Capricorn Investment Group. Last year, the group had an initiative to do more funding in the Midwest, said Mahloch.
"I think there's a good opportunity for these startups in the Midwest that are often overlooked," she added. "We're considered the flyover zone."
"This is what I'm passionate about -- women helping women. In this tech world I'm in, especially the venture-backed world, only 10 percent of venture-backed entrepreneurs are women. Yet women are controlling the majority of the spending," said Mahloch. "I really want to be a voice for them."