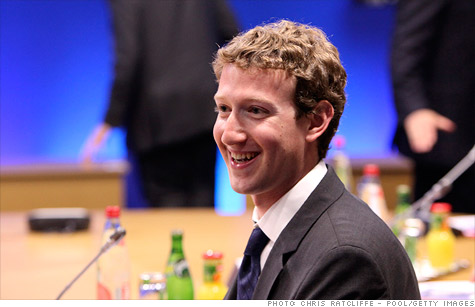 Facebook founder Mark Zuckerberg plans to sell stock worth around $1 billion in Facebook's IPO.
NEW YORK (CNNMoney) -- It's the day techies and investors have been waiting for: Facebook set a price range of $28 to $35 per share for its initial public offering. It also upped the maximum size of its offering to $13.6 billion, up from its previous $5 billion estimate.
Facebook currently has around 2.1 billion shares outstanding, so if its IPO prices at the top of the range, the company would be valued at just shy of $75 billion.
Many Facebook employees and executives, including Zuckerberg, hold unexercised stock options. The company itself is also holding some shares for future employee equity grants. If all of those shares were exercised, Facebook's outstanding share count would rise to around 2.8 billion, pushing its valuation closer to $98 billion.
Facebook's target price range isn't binding, and could change several times before Facebook actually makes its debut. The company will set its final price the night before it begins trading. That's expected to happen sometime in mid-May, with May 18 the current target date.
Institutional investors who purchase shares directly from Facebook's underwriters, including lead banker Morgan Stanley, will buy in at the IPO price. Regular investors will get their shot the next day, when Facebook begins trading on the tech-heavy Nasdaq exchange under the ticker "FB."
The target range set on Thursday could be lowballing. Facebook said in a filing last month that it internally valued its shares at $30.89 each, as of January 31 -- up from $29.73 a month earlier.
Facebook's user base is growing. The site had 901 million monthly active users as of March 31, up 33% compared to the same date last year. User growth is fastest in Brazil, India, and the United States, Facebook said.
Zuck's windfall: Facebook CEO and founder Mark Zuckerberg plans to sell 30.2 million shares in the IPO offering. If Facebook prices at the top of its range, that will net Zuckerberg about $1 billion -- cue the Sean Parker "you know what's cool?" jokes.
But Zuckerberg won't be hanging on to his cash. The company said he will use the "substantial majority" of the windfall to cover the whopping tax bill he'll be hit with, thanks to his plan to exercise a large stock-options grant that will substantially increase his ownership stake in the company he founded.
In 2011, Facebook CEO Zuckerberg pulled in a $500,000 base salary. But he requested -- and will receive -- only $1 per year in salary starting January 1, 2013.
Zuckerberg, who remains the largest shareholder in the company he created, still takes home a hefty pay package. His total compensation in 2011 came to $1.48 million, according to Facebook's calculations.
Although he only owns around a quarter of Facebook, Zuckerberg's shares carry extra voting rights. After the IPO, Zuckerberg will control around 57.3% of the voting power in Facebook.
Financials: Last week, Facebook revealed its first-quarter financials. The company earned $205 million on sales of $1 billion. Both revenue and profit fell from the fourth quarter of 2011, which Facebook chalked up to typical advertising sales slowness in the first quarter compared to the fourth.
Though sales grew by 45% compared to the first quarter of 2011, net income was down 12% from the same period.
Meanwhile, Facebook's closely-watched cash hoard remained virtually unchanged in the first quarter of 2012 from the $3.9 billion it reported in the prior quarter.
That could change, thanks to Facebook's spending spree in April. The company shelled out $550 million to buy part of a large patent portfolio that Microsoft (MSFT, Fortune 500) had previously bought from AOL (AOL).
Facebook is also forking over a cool $1 billion to buy mobile photo sharing startup Instagram, though only $300 million of that is cash. The rest of the purchase is being paid in Facebook shares -- almost 23 million of them. If Facebook prices at $35 a share, Instagram's purchase price is now closer to $1.1 billion.
The company said it forecasts capital expenditures of up to $1.8 billion in 2012.
How Facebook makes money: Advertising accounted for 82% of Facebook's first-quarter revenue, or $872 million.
Facebook's other revenue stream is Facebook Credits, its payment system for purchases within apps and games. Facebook keeps 30% of the revenue from those payments, and passes the remaining 70% on to the app developer. Those fees brought in $186 million for Facebook last quarter.
Revenue from Zynga (ZNGA), which makes FarmVille and other games played on Facebook, represented 11% of Facebook's total revenue in 2011.