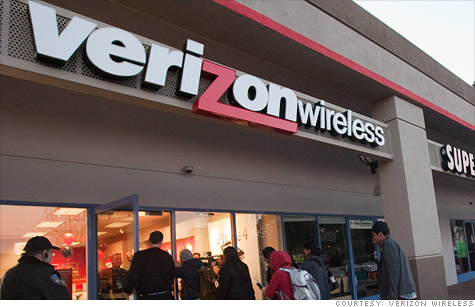 NEW YORK (CNNMoney) -- Want to buy an iPhone? Verizon would really, really like you to consider an alternative.
Anecdotal evidence is stacking up on chat forums and other outlets from people who say that Verizon Wireless' sales representatives actively discouraged them from buying an iPhone and instead pushed hard for rival smartphones.
"Went in to buy an iPhone 4s... but walked out with a Razr," is the headline of one typical post.
"Do sales reps hate the iphone?!" another asks.
I decided to find out for myself. I had 10 conversations with Verizon (VZ, Fortune 500) sales representatives in New York stores, on the phone, and in online chat sessions, asking about my options for a new smartphone.
Here's what I found: Next time you walk into a Verizon store looking to buy a smartphone, expect the hard sell on a 4G Android device.
In each of the 10 discussions, representatives steered me toward either the Motorola (MMI) Droid Razr Maxx, the Droid Razr, or the LG Lucid -- all 4G-capable phones running Google's (GOOG, Fortune 500) Android software. When I asked if those devices were better than the iPhone, they responded that the iPhone was an inferior alternative because it only runs on the company's slower 3G network.
It's true that Verizon's iPhone is 3G-only. Apple doesn't yet make a version compatible with Verizon's 4G network, which potentially offers download speeds up to 10 times faster than on 3G.
"The iPhone is a great phone, but it's on 3G," said one representative at a Verizon Wireless store in midtown Manhattan. "I'm not going to recommend a phone that's outdated."
"The only drawback to the iPhone is it doesn't have 4G, and Verizon is really pushing 4G," another rep said on the phone. "Don't get me wrong, the iPhone is a great phone. It just costs the company a lot of money for returns when customers find out that a faster 4G network is available and the iPhone's only on 3G."
I initially told half the representatives that I wanted "a new smartphone," and half that I was interested in an iPhone.
When I said up front that I wanted an iPhone, none tried to talk me out of it. But when I followed up by asking if it was the best smartphone, they all said no.
"If that's what you want, absolutely we'll order it," one rep said over the phone. "But my recommendation is 4G. I'd want the fastest, best technology that's not going to be outdated when I buy it."
"The Droid Razr Maxx is the faster of the two," another rep said in an online chat after I asked whether he thought the iPhone was my best bet.
Is Verizon asking its sales force to focus on iPhone alternatives? A company spokesman declined to give a direct answer.
"Our sales force's mission is to ensure customers are familiar with our product line and to match the customer with the right device to best meet their needs," Verizon Wireless spokesman Tom Pica said in a written statement. "At the end of the day, our goal is that every customer is delighted with the device that they have chosen."
Carriers have motives to favor some smartphones over others. Verizon and its rivals all pay much heftier up-front subsidies for the iPhone than for other devices. Verizon is also trying to ease congestion on its 3G network by promoting its more capacious and more efficient 4G service.
Yet AT&T (T, Fortune 500), which faces similar margin and capacity constraints, pointed me directly to the iPhone each time I posed as a potential smartphone customer.
"It's all about the 4S now," one AT&T rep said over the phone, unprovoked. "The iPhone is the most popular phone, you know what you're getting, and it's a status symbol you can't get anywhere else."
A spokeswoman from Apple (AAPL, Fortune 500) declined to comment for this story, but CEO Tim Cook addressed some of the company's general issues with carriers on a conference call with analysts last month.
The iPhone has some distinct advantages for carriers over competing smartphones, he said, including "far better data efficiency." He added that iPhone customers are the least likely to leave their current carrier and defect to another, something Sprint (S, Fortune 500) CEO Dan Hesse also said in a recent interview.
"At the end of the day, I think that carriers -- the vast majority of carriers, or maybe even all carriers -- want to provide what their customers want to buy," Cook said.