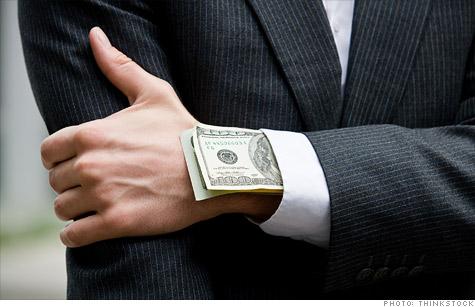 Nearly one in three adults lie to their spouse about money
NEW YORK (CNNMoney) -- Lying about money can ruin a relationship, but couples still do it all the time.
Three in ten adults who are married or living with a partner cop to committing some form of financial infidelity, including hiding purchases and splurging on big-ticket items without discussing it first, according to a report released Friday by the American Institute of Certified Public Accountants.
Some have gone even further. According to the survey, 7% have kept a work bonus or lottery winnings under wraps, 4% have secret savings or retirement accounts and another 4% have withdrawn a significant sum from a joint account on the sly.
These types of deceptions "take their toll and dramatically exacerbate the emotions," said Alan Hirschfeld, partner in charge of the marital dissolution practice at Marcum LLP, a New York-based accounting firm.
Not surprisingly, money issues are the most common cause of fights between couples, resulting in an average of three arguments each month, the American Institute of CPAs said.
More than a quarter, or 27%, of those who are married or living with a partner said they fight about money more than any other issue, including children and work. Most of those arguments stemmed from unexpected expenses, insufficient savings and differing opinions of "needs" versus "wants," the survey said.
To help prevent financial fights, Ernest Almonte, chair-elect of the American Institute of CPAs financial literacy commission, recommends a date night once a month to talk about money matters.
In its report, the American Institute of CPAs suggests several other tips to help keep the financial peace. It advises couples to fully disclose their financial skeletons to one another, including their credit card statements, credit reports and bank accounts. It also suggests splitting the financial responsibilities in order to keep a sense of balance.
Over 1,000 adults were polled by Harris Interactive on behalf of the American Institute of CPAs.