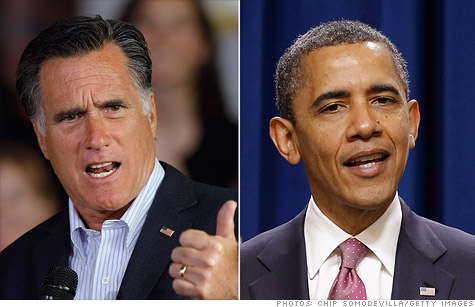 Mitt Romney continues comparing President Obama to Jimmy Carter, saying his policies have made it more difficult for small firms to succeed.
NEW YORK (CNNMoney) -- Mitt Romney last week called President Obama "the most anti-small business" president since Jimmy Carter.
The presumptive Republican nominee said the Obama administration has made it "harder and harder for small business to thrive."
The Romney campaign did not reply to a request to elaborate on its criticism of Obama's small business policies. In the past, though, Romney has pointed to federal regulations in general and the president's health care reform in particular.
So, what is Obama's record on small business?
Regulation: The president has touted his directives to federal agencies to strip away needless regulations, saving an estimated $10 billion over five years. He also ordered departments to consider how new rules would limit the flexibility of small companies before putting them into place.
The administration frequently cites a Bloomberg report that noted Obama approved 5% fewer regulations in his first three years than the 643 President George W. Bush did during that same time span.
The issue of regulation is complex. Obama pushed for and signed the Dodd-Frank financial reform law -- something community bankers say makes it tougher to lend.
Small businesses do have to navigate federal rules. But much of the regulatory burden arises from state and local rules Washington has little power to change.
Taxes: Obama has trumpeted 18 small business tax cuts, which targeted companies hiring unemployed workers and veterans, offered firms speedier tax writedowns for investments, and more.
One Obama tax break doubled the amount small firms could expense to $500,000. Another excluded 75% in capital gains taxes from some small business investments.
To be sure, the tax cuts were a lifeline for many small firms in a brutal economic downturn.
But critics say they helped only certain kinds of businesses and their requirements were too high. At least one, a tax credit enacted as part of health care reform aimed at helping small firms pay for employee coverage, has fallen short of its goal because business owners have found it too confusing and onerous.
Startups: Much of Obama's attention has been focused on small firms as creators of new ideas and technology. During his first year in office, grants to small companies from a federal research and development program jumped 8% to $1.9 billion.
Tech companies stand to benefit from the recent startup-funding law that makes it easier for them to raise money through public offerings. The president's push on job creation comes with a focus on advanced manufacturing, a group he seeks to give tax deductions.
Despite these efforts, nearly every small business survey shows the main worry right now is weak sales.
The economy continues to recover at a sluggish pace. And entrepreneurs aren't as optimistic as they were before the recession, according to monthly surveys conducted by the National Federation of Independent Business.
Still, if the NFIB's optimism survey is any indication, entrepreneurs don't feel anywhere near as bad as they did when Carter lost re-election to Ronald Reagan in 1980.
Julian Zelizer, a political historian and Princeton professor who wrote a book on Carter's presidency, said things aren't as dark now as they were back then.
In the Carter years, the number of startups dropped and remained low, U.S. Census data shows. The same happened at the beginning of Obama's term, but 2011 data isn't yet out to show whether the number has picked up.
"There was a strong sense during Carter that things were as bad or maybe worse. There was a sense of regression, not progress," he said. "Not that things are good now, but there's some sense of forward momentum."