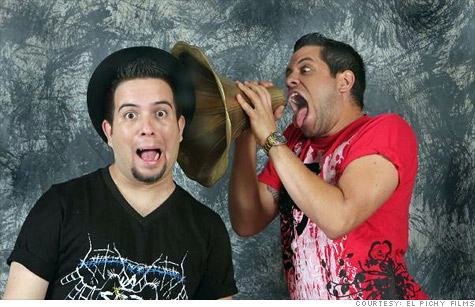 Immigrants like Alejandro Gonzalez and Maikel Rodriguez, who launched a video production company, are twice as likely to create a firm than those born in the United States.
NEW YORK (CNNMoney) -- It all started in jest.
Calling themselves Los Pichy Boys, Cuba-born cousins Alejandro Gonzalez and Maikel Rodriguez started uploading movie spoofs to YouTube in 2008 -- taking short sections of serious films and dubbing them in Spanish with nonsensical slang.
With the movie "Troy," the Miami-based duo reduced the serious Achilles character played by Brad Pitt to a backwater Cuban chump pissed that someone took his bicycle.
When Gonzalez logged back into his account three months later, he was shocked to find the video had almost 60,000 views and many users begging them to make more.
They followed up with dozens, slapping their low-brow humor on American cinema, turning the action film "300" into 299 and Harry Potter into Pototo.
The stunts got the attention of a local Spanish-language radio station, which gave them a morning show, and the two soon moved their sketches to a local TV network.
"We're two guys that put Spanish spice in everything," Gonzalez said. "We try to bring the Latino humor into the English market. Everything is a party for us. Everything is, 'Oye mami!' " (That's a cat call.)
The one-time hobby has become El Pichy Films, a full-fledged production company that makes music videos for South Florida musicians.
Their commodity is their loyal following. Gonzalez, 25, and Rodriguez, 26, don't claim to be masters with a camera, but they've turned their guaranteed 7,000 views on YouTube into a sellable product.
They also launched iSpeakMiami.com to sell merchandise that bears the phrases they coin.
While their humor hasn't caught on with English speakers -- and it's not meant to -- the Pichy boys are preparing to venture into that arena. They're working on a pilot episode for a reality show, one that features a Miami drag racing team as it competes around the world.
Read more about immigrant Hispanic small business owners:
Kanti Organics founder left Colombia and never looked back
Refundo offers mobile banking for Spanish speakers
Orinoco creates jobs on both sides of the border
From tiny jungle town to a gourmet city shop called MarieBelle