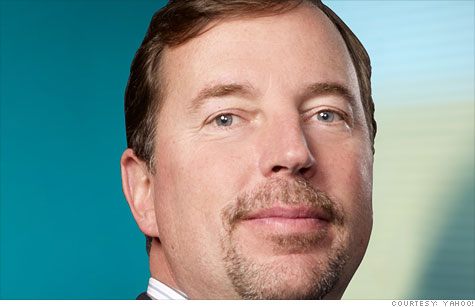 Yahoo CEO Scott Thompson apologized to Yahoo's staff for the scandal unfolding around what the company calls an "inadvertant error" in his resume.
NEW YORK (CNNMoney) -- Embattled Yahoo CEO Scott Thompson told company employees late Monday that he is sorry for the distraction his resume padding scandal has caused -- without commenting on what role his own actions might have played in creating the drama.
"I want you to know how deeply I regret how this issue has affected the company and all of you," Thompson said in a memo obtained by CNN. "We have all been working very hard to move the company forward, and this has had the opposite effect. For that, I take full responsibility, and I want to apologize to you."
The scandal erupted late last week, when activist shareholder group Third Point first alleged that Thompson lied about his college degree. Thompson's published bios have claimed that he holds a Bachelor's degree in both accounting and computer science from Stonehill College, but his degree is actually only in accounting.
Yahoo (YHOO, Fortune 500) said that it had incorrectly stated Thompson's academic credentials, claiming the mistake was an "inadvertent error."
On Tuesday, the Yahoo announced that Patti Hart, the director who led the search committee that picked Thompson, will soon leave the board.
First reported by tech blog AllThingsD, the news was later confirmed by Yahoo, which said Hart is stepping down at the behest of her own company, International Game Technology (IGT). Hart, who joined Yahoo's board in 2010, serves as CEO of IGT.
"The IGT board requested that she not seek reelection as a Yahoo director," Yahoo said in a written statement.
Yahoo's board said also Tuesday that it has hired an outside counsel to conduct a review of the false statement. It appointed the company's three independent directors to oversee the investigation.
All three directors were named to Yahoo's board under Thompson's watch, after a board shakeup that wiped out most of Yahoo's previous directors.
Thompson said he would cooperate fully with the board's review, and the CEO urged a "prompt" conclusion to the probe.
Thompson's memo to Yahoo's staff included no explanation for how the mistake happened. His apology was solely for the impact the scandal has had on the company, not for the act itself.
That didn't impress the troops.
A senior Yahoo executive, who spoke to CNN on the condition that his name not be used, said: "Thompson has quickly lost the confidence of many employees, who think he has to go."
False statements about Thompson's degree predate his tenure at Yahoo, which began in January. References to a "computer science" degree also appeared in his online biographical information on PayPal's website when he was president of the eBay (EBAY, Fortune 500) subsidiary.
Thompson's degree information is actually correct in eBay's regulatory filings to the Securities and Exchange Commission and in the bio featured in filings for F5 (FFIV), where he serves as a director. In both cases, the companies state: "Mr. Thompson holds a B.S. in Accounting from Stonehill College," with no reference to a computer science degree.
But the false statement about his degree appeared in Yahoo's latest annual report filed to the SEC: "Mr. Thompson holds a Bachelor's degree in accounting and computer science from Stonehill College."
Critics like Third Point seized on that line and are demanding answers about how it made its way into Yahoo's regulatory filings. CEOs are required to personally certify that their company's statements are accurate.
The annual report Yahoo filed last month includes this line, directly above Scott Thompson's signature: "This report does not contain any untrue statement of a material fact."
A spokeswoman from Third Point declined to comment on Thompson's apology.
The investment group said earlier on Monday that it wasn't satisfied with Yahoo's review process. It sent Yahoo's board a letter demanding that it be allowed to inspect books and records relating to Thompson's hiring, and it urged the company to make details of the review public.
Yahoo's board "will make an appropriate disclosure to shareholders" upon conclusion of its review, Yahoo said in a statement e-mailed statement to CNNMoney.
Yahoo typically uses the headhunting firm Heidrick & Struggles for its executive searches. But AllThingsD says the firm wasn't involved in the search for Thompson -- he reportedly reached out directly to company directors to pitch himself for the CEO job.
CNNMoney has reached out to Heidrick & Struggles to find out if the firm was involved in vetting Thompson's background. The firm declined to comment, but a source close to the company said Heidrick & Struggles was not involved in Thompson's appointment in any way.
Meanwhile, Thompson said he would continue pushing forward on the company's latest attempt to rebuild.
"I feel I owe it to all of you to make sure that nothing disrupts the progress we've made in just a few short months due to all of your focus, commitment, and hard work," he said. "We have a lot of work to do. We need to continue to act as one team to fulfill the potential of this great company and keep moving forward. You have my word that all my energy and attention will be on that mission."
-- CNN's Dan Simon and Katy Byron contributed reporting to this article.