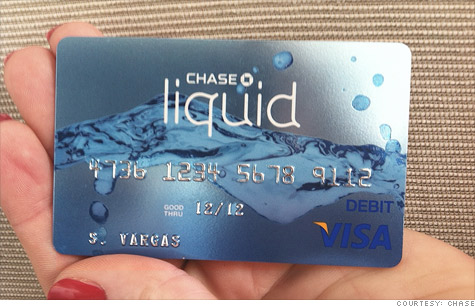 JPMorgan Chase is launching a new prepaid card, called Chase Liquid.
NEW YORK (CNNMoney) -- JPMorgan Chase wants a piece of the booming prepaid card business.
The bank announced this week that it will launch a prepaid card called Chase Liquid. The card has been rolled out in about 200 branches, and it will be offered nationwide this summer.
Prepaid cards are like debit cards that consumers can reload with their own money. Unlike conventional debit cards, they aren't attached to bank accounts, and they typically target consumers who have few other banking options because they have limited or poor credit.
While prepaid debit cards generally come with more -- and higher -- fees, Chase's card looks like a fairly good option next to some of the other cards in the market, said Greg McBride, senior financial analyst at Bankrate.com.
How Chase Liquid stacks up: The only fee on the Chase Liquid card is a flat monthly charge of $4.95. Customers can reload their cards at bank branches or ATMs for free, and ATM withdrawals within the bank's network are also free.
The $4.95 fee by itself is pretty average for prepaid cards, said McBride. But Chase's new card sets itself apart because that is its only fee, he said.
A recent Bankrate study of 18 prepaid cards found that two-thirds have monthly fees ranging from $2.50 to $9.95. And many cards also come with fees for activation, transactions, ATM use, bill payment, inactivity, customer service, paper statements and declined transactions.
In some cases, the Chase Liquid could even be cheaper than opening a conventional bank account at Chase. Depending on the checking account you choose and whether you're able to meet requirements like maintaining a minimum balance and making direct deposits, the price of a checking account at Chase ranges from $6 to $35 per month.
"Chase Liquid is a low-cost alternative to traditional checking accounts, and its terms are clear and simple," Ryan McInerney, CEO of consumer banking at Chase, said in a statement.
JPMorgan Chase (JPM, Fortune 500) isn't the first big bank to enter the prepaid card market. American Express began issuing a prepaid card last year, and it's only fee is a $2 charge for ATM withdrawals. U.S. Bank (USB, Fortune 500), Capital One (COF, Fortune 500) and Wells Fargo (WFC, Fortune 500) also offer prepaid cards.
Why the rush to prepaid cards? It's a booming industry, with $82 billion expected to be loaded onto these cards by the end of this year -- up 44% from $57 billion last year.
At the same time, prepaid cards aren't subject to the Durbin amendment, which capped the fees banks are able to charge retailers every time customers swipe their debit cards to make purchases. This new regulation is expected to cost the nation's biggest banks a total of $8 billion in annual revenue, according to new research from CardHub.com.
By issuing prepaid cards, banks are creating a new revenue stream.
"Regulatory changes have created quite a revenue hole that big banks have to fill, and prepaid cards can tap into a marketplace of new customers," said McBride.