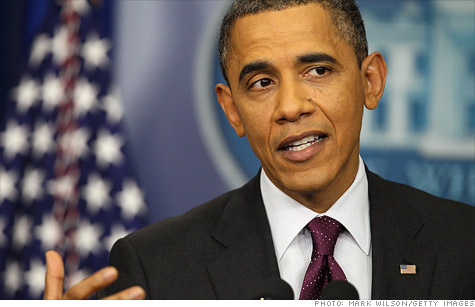 President Obama said in an interview on ABC News that his views on gay marriage have evolved, and that he now supports marriage equality for same-sex couples.
NEW YORK (CNNMoney) -- Advocates are hopeful that President Obama's decision to support same-sex marriage will bring gay couples one step closer to equal treatment on taxes, Social Security and other important financial matters.
Obama said in an interview Wednesday on ABC News that his views on gay marriage have evolved, and that he now supports marriage equality for same-sex couples.
His decision, advocates said, could help spur support for the eventual repeal of the Defense of Marriage Act, a 1996 law that reserves marriage for a man and a woman.
The law, known as DOMA, is at the root of differences in how gay couples are treated under federal law.
"Just because the president comes out and stands on the right side of history doesn't mean Congress will move faster [to repeal DOMA]," said Rea Carey, executive director of the National Gay and Lesbian Task Force. "But this will go far to raise the visibility of the economic inequities of same-sex couples," Carey said.
More political leaders are likely to step out in support of the cause, and more families and same-sex couples will be encouraged to talk about their hardships -- both financial and social, Carey added.
One of the biggest issues faced by people in same-sex relationships is the loss of government benefits if their loved one passes away, said Cathy Pareto, a certified financial planner and the founder of wealth management firm Cathy Pareto & Associates.
Take Social Security, for example. Members of same-sex couples are not entitled to survivor benefits -- even if they live in states that recognize gay marriage, she said.
"Same-sex couples are often in the position of going from a two-income family to one, causing them to lose homes and lose the ability to pay for health care or medicine -- it can be devastating," Carey said.
In fact, research conducted by the Human Rights Campaign found that the average same-sex spouse is denied about $14,000 a year in survivor benefits that opposite-sex married couples are able to get.
Another big difference faced by same-sex couples involves taxes.
Same-sex couples are typically taxed on health care benefits they receive through a partner's plan if they aren't married, Pareto said. And they don't get the same gift tax exemptions married couples get when giving money to a spouse.
Many same-sex couples also wind up paying thousands of dollars a year in extra income tax because they are unable to file jointly, tax preparation firm H&R Block found in an analysis conducted for CNNMoney.
And the list goes on. Even little things like not being able to qualify for a family gym membership or auto insurance -- or paying double the amount to hire a financial planner for two individuals rather than one married couple -- really add up, said Pareto.