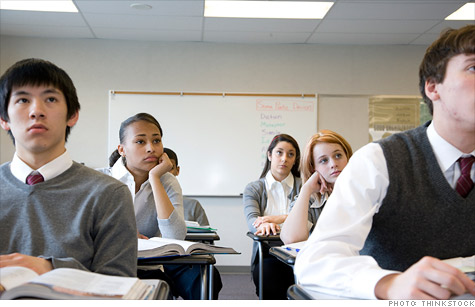 Private schools are being flooded with applications for financial aid from high-income families.
NEW YORK (CNNMoney) -- Private schools are getting flooded with financial aid applications, and a growing number of the parents seeking help are earning $150,000 or more a year.
Overall, the average cost of tuition at private schools across all grades is nearly $22,000 a year, up 4% from a year ago and 26% higher than it was in the 2006-07 academic year, according to the National Association of Independent Schools.
And more students than ever are asking for need-based financial aid.
In the 2010-11 academic year, about 20% of families that filed for financial aid for private school earned $150,000 or more a year, up from just 6% in 2002-03.
Many parents have been hit hard by the recession and declining home values and can no longer afford an expensive private school education. But it's one expense they aren't willing to give up.
"There's this pressure to give your kids what you think is the best," said Robin Aronow, a school admissions consultant in New York.
At Tabor Academy, a private high school in Marion, Mass., there's been a spike in families with household incomes as high as $350,000 applying for assistance.
"Five years ago, they were full-pay families and they're not anymore. They just don't have the liquid assets," said Eric Long, Tabor's director of financial aid.
Annual tuition at Tabor is just shy of $50,000 for boarding students and $35,400 for day students -- and it keeps on rising.
"We're going up 5% a year and they're making 3% more each year, the difference keeps compounding," said Long.
The same holds true at Sewickley Academy in Pittsburgh, where tuition averages about $20,000 a year for grades kindergarten through 12.
As a result of the recession, "we saw some families take a serious hit to their income and we were committed to keeping those families here at school," said Brendan Schneider, Sewickley's director of admission and financial aid.
As a growing number of wealthy families seek financial assistance, there is less aid available for lower-income families who most need the aid.
"A greater part of the school's community is demonstrating need and that makes us less able to afford a very significant financial aid package for low-income students," said Todd Ormiston, assistant head of enrollment management at Gould Academy in Maine.
"Every year we see families with more means outpacing the families with less means," said Chantal Stevens, national director of programs at A Better Chance, a nonprofit that helps minority children get access to private school. "It's not a pretty trend."
Unlike the protocol for colleges, need-based awards are almost entirely up to the school, said Victoria Goldman, author of Manhattan Guide to Private Schools, and "private schools can do whatever they want."
Depending on the school's endowment and financial aid budgets, awards can vary wildly from school to school, explained Brian Fisher, partner at AdmissionsQuest, a private school consulting firm.
And while household income, net worth and disposable income still play a role in determining aid eligibility, schools are increasingly looking at a family's ability to pay a portion of the cost themselves.
"The more you can pay, the better your chances are of being funded," Long said. "We're still looking for socio-economic diversity but our budget can absorb far fewer of those families that can only pay $500 to $1,000 a year."
Those making between $150,000 and $350,000 a year who can pay at least 50% of the bill have become ideal candidates for aid.
At Gould, tuition is close to $50,000 a year and about 40% of the student body receives financial aid. But who gets what is something few people talk about -- particularly those in the highest income bracket.
"They don't want to advertise that they are applying for financial aid. Most are very discrete and they give up this kind of information very reluctantly," said Fisher.
"It's almost like they are whispering into the phone," said Long of the more affluent families from towns like Newton, Mass. and Greenwich, Conn. who request aid to attend Tabor Academy. But, "I don't know how anyone can be embarrassed to ask for help when high school costs over $200,000."