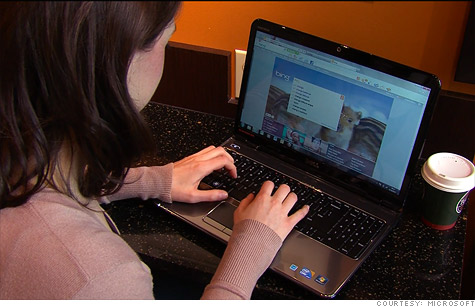 Microsoft's redesigned Bing takes aim at Google's search weaknesses.
NEW YORK (CNNMoney) -- Microsoft is launching a major overhaul of its also-ran search engine Bing on Thursday, aiming at a weakness it sees in market leader Google.
The most prominent new element in Bing's redesign is "Sidebar," a social search feature that scours users' social networks to surface information relevant to their search queries.
Google (GOOG, Fortune 500) unveiled a similar feature dubbed "Search Plus Your World" in January to decidedly mixed reviews. Though some of the basic features are the same, Microsoft (MSFT, Fortune 500) thinks it has a better solution.
Like Google, Bing's Sidebar will display posts from people in your social networks who have recently discussed a topic related to what you just searched for. A search for "San Francisco restaurants" will return posts from your friends talking about good eats in the city.
That's where the similarities end.
Google's "social search" only displays Google+ posts -- something that Facebook and Twitter are cranky about. It's a walled garden that fences users inside Google's proprietary network.
Bing's Sidebar works with multiple social networks, including Facebook, Twitter and Google+. It stashes its social search results off to the right side of the page, while Google plops them right into the middle of its main results.
Bing's strategy is pointedly different than that of Google, which is laser-focused on building its own social network. Though Google+ has grown to nearly 100 million users, analysts are still trying to determine how active and engaged they actually are.
Microsoft, on the other hand, invested in Facebook in 2007 and partnered with Twitter in 2009. Those deals give it search access to content on two of the Internet's leading social networks.
Google had also partnered with Twitter, but that relationship ended in 2011.
"We think this is a far better approach than building our own social network," Stefan Weitz, Bing's senior director, said in an interview with CNNMoney. "We're not being restricting with anyone."
Sidebar isn't the only new feature in Bing's makeover. Some of the more superficial elements of the redesign began to show up on the website earlier this month, including a cleaned-up look with significantly less clutter on the margins.
On Thursday, Microsoft also launched "Snapshot," which provides instant answers to queries about topics like restaurant reservations, hotel reviews, maps and movie trailers. It also leverages Bing's social partnerships to help users search for people.
Most of those features were available in Bing previously and can be accomplished in Google, but Snapshot relocates that data to a middle column, keeping it out of the standard search results.
Even if Bing's changes give the service a boost, it has a long, long way to go to catch up to Google -- something Microsoft hasn't been able to do since it launched Bing in June 2009.
Bing currently maintains a 15.3% share of the search market, up from 8.4% when Bing launched, according to online data tracker comScore (SCOR). Google commands 66.4% of the market, up four-tenths of a percentage point from the 65% it held when Bing debuted.
More than half the share that Bing has gained has actually come from third-place Yahoo (YHOO, Fortune 500). The rest has come from search cellar-dwellers Ask.com and AOL (AOL).
There's usually no such thing as "bad" market share growth, but Yahoo's search is powered by Bing. That means more than half of Microsoft's share growth has come from cannibalizing its search partner.
Meanwhile, Microsoft is losing upwards of $1 billion a quarter on its search business.
The search engine's sad state of affairs has even made it the butt of pop-culture jokes. On Sunday's episode of HBO show "Veep," the vice president's socially inept aide yelled out, "I'm Binging it!" to a search request.
But if Bing does get social search right -- in stark contrast to Google's widely criticized approach -- it may be time to start taking it more seriously.