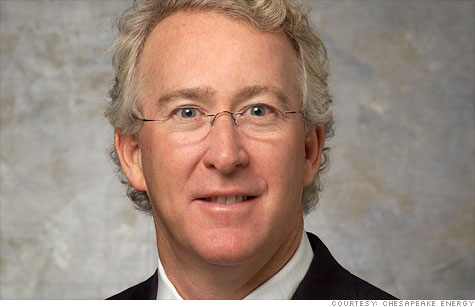 Chesapeake Energy announced last month that it was removing McClendon as chairman in response to the controversy.
NEW YORK (CNNMoney) -- Chesapeake Energy CEO Aubrey McClendon has personally earned over $100 million from sales of the company's drilling wells as part of a controversial compensation arrangement, the firm revealed Friday.
In a filing with the Securities and Exchange Commission, Chesapeake (CHK, Fortune 500) said that since the beginning of 2011, McClendon has earned roughly $108 million through sales of assets he acquired through the company's "Founder Well Participation Program." The FWPP allowed McClendon to take personal stakes of up to 2.5% in Chesapeake's wells in exchange for contributions to their financing.
The news was reported earlier Friday by The Wall Street Journal.
Last year, Chesapeake sold gas assets to Australian mining firm BHP Billiton (BHP) for $4.75 billion. The company -- America's second-largest natural gas producer -- has come under pressure to sell further assets because of falling natural gas prices and a heavy debt burden that analysts peg at around $10 billion.
In instances in which McClendon has sold his stakes concurrently with Chesapeake, revenues are divided proportionally, the company said. He is also free to sell on his own.
McClendon's stakes in Chesapeake's wells have come under scrutiny in recent weeks following revelations that he took out more than $1 billion in loans backed by these stakes in the past three years without disclosing this fact to shareholders.
Reuters has also reported that McClendon ran a $200 million hedge fund that traded in the same commodities that Chesapeake produces, raising further questions about a conflict of interest.
In response to the controversy, Chesapeake has announced an early termination of the FWPP and has removed McClendon from his role as chairman of the company's board. The SEC has also begun an "informal inquiry" of the firm.
Friday's SEC filing said McClendon contributed roughly $128 million to help finance Chesapeake's wells during the first three months of this year after investing more than $457 million last year.
McClendon has told Chesapeake that his expenditures under the FWPP have "significantly exceeded" the revenues he has earned thus far. He estimates the value of future net revenues from his stakes at roughly $409 million, based on current prices and before taxes, the filing said.
Chesapeake shares were down 4% in trading on Friday afternoon, and have fallen 20% in the past month.