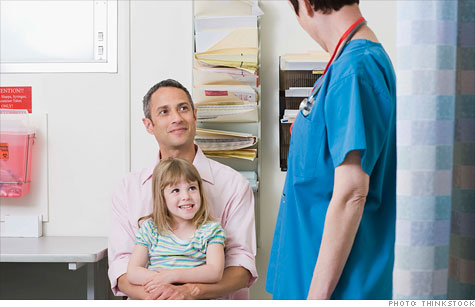 If you're checking in for a hospital stay, request in writing that you be seen only by in-network providers.
(MONEY Magazine) -- Going to medical providers and using medical services outside of your health insurer's network can be much more expensive than you imagined. Here are 5 tips to avoid incurring some of the high out-of-network charges.
That in-network doc might not be
Insurers' provider directories can be woefully out of date. Recently the New York attorney general reached an agreement with eight major insurers and required them to reimburse consumers who received out-of-network bills because of outdated directory information. It's a national problem, according to the AG's office.
The only way to be sure? Call to confirm which insurance the doctor takes before you book an appointment.
Some services aren't included
Anesthesiologists are notorious for not accepting many insurance plans.
That's often the case for emergency physicians, many other hospital specialists, and lab and radiology services as well, says Jane Cooper, chief executive of Patient Care, a Milwaukee-based patient-advocacy company.
If you're checking in for a hospital stay, request in writing that you be seen only by in-network providers.
The doctor bills may be bigger than you expect
Some insurers are shifting to Medicare payment rates as the starting point for calculating how much they'll pay out-of-network providers. That leaves you vulnerable to sticker shock, since Medicare rates are far lower than the "usual and customary" rates the insurers once used.
In most states, providers can force you to pay the balance of the bill.
You'll be on the hook for more
Insurance plans used to routinely cover 80% of out-of-network charges. Now they're more likely to cover 70%, says Jim Winkler, a senior vice president at benefits consultant Aon Hewitt.
Send The Help Desk your health insurance questions.
The deductible you have to meet before coverage kicks in is probably higher as well, recently an average of $750 for singles and $1,800 for families, up from $500 and $1,100 just five years ago, says HR consulting firm Mercer.
You can -- and should -- negotiate
If you must see a doctor or hospital out of network, try to negotiate a price with the provider ahead of time, says Cooper.
Call the hospital or physician's billing office directly and ask for a 30% to 35% reduction in the charges, noting that's about what your insurer would probably pay.
"Anything less than that I'd dispute as unfair," says Pat Palmer, founder of Medical Billing Advocates of America in Roanoke, Va.
Do you know a Money Hero? Money magazine is celebrating people, both famous and unsung, who have done extraordinary work to improve others' financial well-being. Nominate your Money Hero.