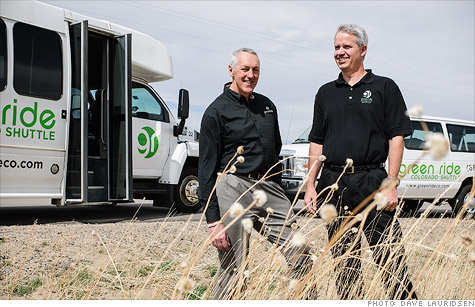 Bob Flynn and Ray Schofield, 57 and 51, Fort Collins, Colo.
(Money Magazine) -- How can you beat the odds if you want to join the boomerpreneur boom and start your own company after 50?
MONEY put that question to small-business experts and dozens of fiftysomething entrepreneurs for their best advice.
This is the second of three articles on how to become a boomerpreneur. This one will help you to see what lifestyle changes starting your own business will call for. You can also see if you've got what it takes to own your own business and how to put time on your side, and knowing the real costs of starting up a business and financing with caution.
CHANGE YOUR LIFESTYLE
Fort Collins, Colo., neighbors Bob Flynn, now 57, and Ray Schofield, 51, had spent most of their careers at technology companies -- Flynn as an engineer, Schofield as a financial analyst -- both making in excess of $100,000.
But after a restructuring cost Flynn his job and Schofield's position was transferred to California, the two landed at an airport shuttle company. Working there gave the men, both environmentalists, an idea for a new niche: an environmentally friendly shuttle service. In 2008 they launched GreenRide.
Their first-year take? Just $35,000 each, which barely covered Schofield's $2,200-a-month mortgage. His wife, a physical therapist, had to put in twice as many hours to help with expenses; Flynn's wife took a part-time job to provide health insurance. Both families drained their cash reserves. "We made sacrifices to pay the bills," says Schofield. Fortunately, after two years of profitability, they're starting to see the rewards: Next year they'll pay themselves $85,000 each.
Flynn and Schofield were so accustomed to six-figure incomes that they had expenses to match. The duo managed to cobble together just enough to cover their expenses, but only by the seat of their pants.
A better move? Plan as much as you can for a drop in income your first few years out. "But also make sure the business can eventually pay you a salary commensurate with your needs and wants," says Pewaukee, Wis., financial planner Kevin Reardon.
How to do it
Project your income potential. Build a sufficient income for yourself into your business plan. Figure in health insurance costs, too, if you don't have a working spouse who can provide coverage. And be sure the salary you'll draw includes room for retirement savings soon.

Ratchet back now. If you have the luxury of being employed before launching, cut your living costs and supersize your cash cushion. Besides giving you a little more financial security, this is a good test of whether you can handle the meager early years as an owner.

Keep a hand in your old job. Unless you're out of work or your new business presents a conflict of interest with your job, you needn't go cold turkey from the corporate world. Pursuing your passion on the side allows you to keep a paycheck and reinvest profits from the business, says Izard. Stephanie Ringer hung on to her job at Aflac for nearly a year after buying WorkShop: "It gave me a chance to grow the business to the point where I knew I could run it full-time."
How Bob Flynn and Ray Schofield did it
Their strategy: Start a company from scratch.
Worked for: Technology firms, Flynn as an engineer and Schofield as a financial analyst; then for an airport shuttle company.
Now run: GreenRide, an eco-friendly shuttle running between Fort Collins and Southern Wyoming and Denver airport.
Quote: "Know the industry you're going into and be passionate about it. You have to provide a great product or service," according to Flynn.
By the numbers
Year started: 2008
Employees: 80
Startup costs: $250,000
Revenue in 2011: $2.2 million
Salaries in 2011: $70,000 each
How to be a boomerpreneur:
Buy a biz that's up and running
Start a company from scratch
Do you know a Money Hero? MONEY magazine is celebrating people, both famous and unsung, who have done extraordinary work to improve others' financial well-being. Nominate your Money Hero.