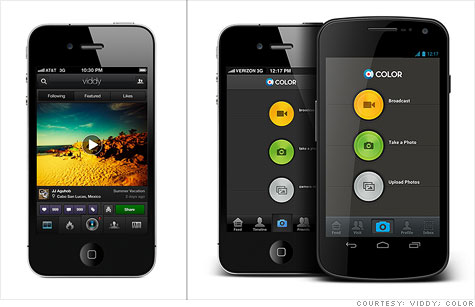 Color (left) and Viddy are two contenders in the crowded video-sharing app field.
NEW YORK (CNNMoney) -- Now that Instagram has grabbed the $1 billion brass ring and been crowned the winner in the photo-sharing apps realm, startups are flocking toward the next mobile battleground: video.
At the head of the scrum, there's Viddy. If you haven't heard of it yet, you will soon.
Launched a year ago, the Los Angeles-based site suddenly took off in a Pinterest-like frenzy and now claims 27 million unique users. It's got celebrity users including Bill Cosby and Snoop Dogg plus seed funding from tech fixtures like Twitter co-founder Biz Stone. Mark Zuckerberg even gave it a whirl, sharing a clip of his puppy playing.
The heavy hitters are jumping in. On Friday, Viddy plans to announce a $30 million funding round from investors including NEA, Goldman Sachs, Battery Ventures and Khosla Ventures. The round values the company at around $350 million, according to a source with knowledge of the deal.
But here's the much bigger news: Justin Bieber is giving Viddy his blessing. On Thursday he sent the tweet every social startup founder dreams of: "trying to figure out what my first viddy is gonna be."
Viddy's style is simple and short. The app lets users broadcast 15-second clips to their friends on social networks including Facebook, Twitter, YouTube and Tumblr. Users can add a variety of vintage filters -- hey, it worked for Instagram -- along with visual effects and musical transitions.
"A lot of companies are trying to make it easy to share, but we're focused on making mobile video worth sharing," Viddy CEO Brett O'Brien says. "It challenges videographers to pick the moments that matter the most."
Arch-rival Socialcam takes the opposite approach. It too offers easy sharing and artistic filters, but it doesn't put any limits on recording length.
"Twitter forces you to be concise, but gives you the time to be concise," says Socialcam CEO Michael Seibel. "With video, you can't rewind the clock and tell people to slow down and speak up. I can't force you to sing 'Happy Birthday' in 15 seconds."
Socialcam claims to have 42 million active users, citing data from AppTracker, but it's likely that only a small fraction of them are actually uploading video. If a friend of yours posts a Socialcam video on Facebook, you can't watch it without installing Socialcam's app -- a tactic that has rapidly inflated the app's user base. Viddy uses the same trick.
And be careful what you view: By default, both Socialcam and Viddy will broadcast on your Facebook Timeline a rundown on what you're watching.
Socialcam creator Seibel is a repeat entrepreneur who previous co-founded Justin.tv, a site that let people broadcast on the Internet. He cites his background in the field as one of his company's key competitive advantages.
"Making sure you can get video at scale cheaply is a huge advantage," he says. "We've done it."
Then there's the wildcard of video-sharing apps: Color.
While everyone else focuses on shoot-and-upload video, Color CEO Bill Nguyen is betting on real-time broadcasting. A partnership this week with Verizon Wireless will let users post 30-second live streams straight from their 4G LTE smartphones to their social networking profiles. A "doorbell" notification alerts friends when you're on the air.
"We're trying to do something YouTube can't do -- we want to make something as live as possible," Nguyen says.
For Color to be in this race at all -- much less striking deals with giants like Verizon (VZ, Fortune 500) -- is a surprise.
Originally conceived as a photo-sharing site, the year-old company became a Silicon Valley punchline after its disasterously overhyped launch. Major investors like Sequoia Capital and Bain Capital flung $41 million at the startup, only to see it implode within days of going live. Color's top product executives quickly headed out the door.
Nguyen shrugged and pivoted. He's got plenty of cash in the bank to experiment with, and no shortage of ideas. The video market is exactly the kind of wide-open fiend that Nguyen, a serial entrepreneur who sold his last venture to Apple (AAPL, Fortune 500), loves to play in.
"We want to give people a glimpse of the future and deliver it as fast as possible," he says.