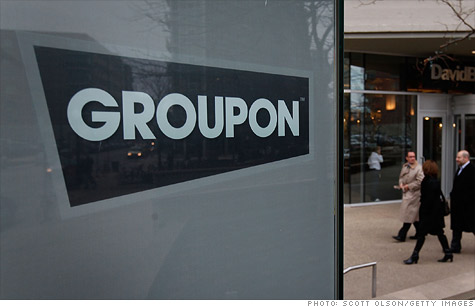 Groupon stock rose Tuesday after the daily deals company reported a narrower loss.
NEW YORK (CNNMoney) -- Shares of Groupon surged 23% in premarket trading Tuesday after the daily deals company reported narrower losses and better-than-expected sales, giving investors hope that the company can steady its ship.
Groupon (GRPN) stock closed 19% higher in Monday trading ahead of the company's financial announcement after the final bell.
Groupon said its customer base continues to grow rapidly and added that its technological improvements in the mobile space are paying off in the form of robust sales growth.
That led the company to deliver an optimistic business outlook, saying it expects between $550 and $590 million in sales this quarter. That's generally higher than the $559 million median estimate of Wall Street analysts polled by Thompson Reuters.
Even if shares can hold their premarket gains throughout the trading day Tuesday, the stock will be down nearly 30% for the year after it first reported a surprise loss in early February.
Groupon reported 37 million active customers as of the end of March, up 140% over a year ago. Products like instant-deals app Groupon Now helped the company grow on smartphones: nearly 30% of Groupon's North American transactions were completed on mobile devices in April.
Even Groupon's lavish advertising spending took a turn for the better. Groupon decreased its marketing spending by 25% in the first quarter compared to the prior quarter, but still managed to add the same number of customers in both three-month periods, the company reported.
The Chicago-based company reported a net loss of $11.7 million, significantly narrower than the $146.5 million loss it reported a year earlier.
The results included a charge of $34.6 million for one-time tax expenses. Without the charge, Groupon said it earned 2 cents per share. Analysts polled by Thomson Reuters, who typically exclude one-time items from their estimates, had forecast earnings of a penny per share.
Groupon's sales for the quarter rose 89% to $559 million, topping analysts' forecasts of $531 million.
"We are pleased to report a record quarter that demonstrates our progress in unlocking the opportunity in local commerce for merchants and customers worldwide," Groupon CEO Andrew Mason said in a prepared statement.
On a conference call with investors, Mason said the company is beginning the third phase of progress toward its goal of creating "an operating system for mobile commerce."
After entering 500 markets in 48 countries (phase one) and expanding its categories of products (phase two), Groupon is now working to make its products "smarter, more personalized, convenient and relevant," Mason said.
The company's stock has taken a beating lately, cutting its value roughly in half since its June 2011 initial public offering of $20 per share. Groupon has been plagued by accounting errors, including a March restatement of its finances, which effectively cut its sales in half.
Groupon Chief Financial Officer Jason Child said on Monday's conference call that the company is increasing hiring in its accounting department and is working to ensure the correctness of its financial reports by employing a team of independent auditors.