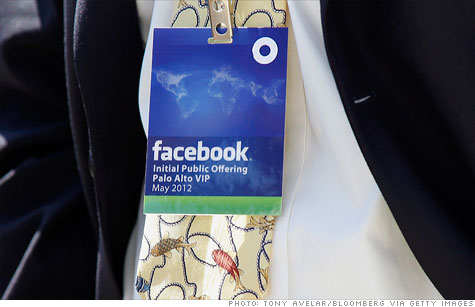 Facebook's IPO this week will turn thousands of its employees into millionaires -- or billionaires.
NEW YORK (CNNMoney) -- As Facebook prepares to go public, the vultures are circling around its fresh crop of paper millionaires.
It's a Silicon Valley ritual: When money seems imminent, wealth managers flock in to help the newly rich navigate their altered financial landscape.
"When you raise money or go public, all of these people see dollar signs and start calling," says Rick Marini, a serial entrepreneur who sold his first company, Tickle Inc., to Monster (MWW). He's been fielding a fresh wave of cold calls since last month, when his new venture, job networking app BranchOut, announced a $25 million funding round.
For those at the top of Facebook's food chain, the planning started years ago.
Both Facebook founder Mark Zuckerberg and his No. 2, Sheryl Sandberg, are clients of exclusive money manager Iconiq Capital, two sources with knowledge of their financial arrangements told CNNMoney. Early Facebook (FB) advisor Sean Parker, whose 4% stake in the company is worth an estimated $2.6 billion, is also an Iconiq client.
Iconiq is an under-the-radar, extremely private wealth management company that caters to Silicon Valley's elite. It was launched last year by a trio of private bankers -- Divesh Makan, Chad Boeding and Michael Anders -- who worked together at Goldman Sachs (GS, Fortune 500), then moved to Morgan Stanley (MS, Fortune 500) before striking out on their own.
"Clients went with them when they left," says one source with knowledge of the firm's client list, which totals less than 100 people. "You have a real estate agent you like, you follow them."
Iconiq's managers began cultivating relationships with Facebook executives many years ago -- long before the company was Silicon Valley's hottest venture.
"Their play is to get to know entrepreneurs before they're really successful," says one company founder who has had discussions with Iconiq.
Iconiq is the stratosphere, catering to Facebook's billionaires. The next tier down are the wealth managers that serve mere millionaires. Ask Silicon Valley veterans which firms they use and they'll rattle off names including Goldman Sachs, Merrill Lynch, JPMorgan (JPM, Fortune 500) and Morgan Stanley.
Word-of-mouth recommendations are the usual way names spread, but some advisors aren't above chasing down potential clients themselves.
"They're going to be getting a ton of cold emails from wealth managers," entrepreneur Nat Turner says of Facebook's fledgling millionaires.
Turner sold his company, Invite Media, to Google (GOOG, Fortune 500) in 2010 for around $70 million. The moment rumors broke about the sale, the calls began.
"At one point Zach [Weinberg, Invite's co-founder] had fifteen voicemails," he recalls.
That instant interest is turnaround from just a few years ago. Alexis Ohanian says "only a couple" of financial types reached out to him in 2006, after he sold his news website Reddit to Conde Nast.
"Messages trickled in, but it was a different time back then," Ohanian says. "Now, bankers are reading TechCrunch and Hacker News. They're getting smarter and faster."
Sudden wealth is a pretty sweet problem to have, but it's still a challenge to manage.
"Losing a lot of money is stressful, but so is making a lot of money," says Karl Jacob, a serial entrepreneur who worked with Facebook as an advisor in its startup days.
The money brings with it a new set of responsibilities. "It's net positive, but you've got to take it very seriously," Turner says. "It ends up becoming a part of your life where you have to make sure you do things correctly."
Zuckerberg, for example, has a Facebook stake worth an estimated $19.1 billion if the company prices at $38 a share, the high end of its proposed IPO range. But he also faces a tax bill this year that will easily top $1 billion.
That makes his fellow entrepreneurs wince.
"It's scary to think that if you don't file one form, you could get taxed at a much higher rate," Ohanian says. As an example, he rattles off a spiel about 83(b) elections, a bit of IRS arcana that strikes fear into the heart of startup veterans.
"It's huge. You need someone who knows to tell you about these things," Ohanian says.
And you need to know them early.
"Once your name is in the press, if you don't already have the relationship, it's already too late," warns Andy Ellwood, who was leading business development at location-sharing startup Gowalla when Facebook bought the company late last year.
"By the time you have the money, everyone will want to talk to you. You need to build these relationships pre-acquisition," Ellwood says. "But it's tough: You don't want to count your chickens before they're hatched."
For Facebook's 3,500 employees, who are sitting on an estimated $10 billion in company equity, those chickens will start hatching this week.