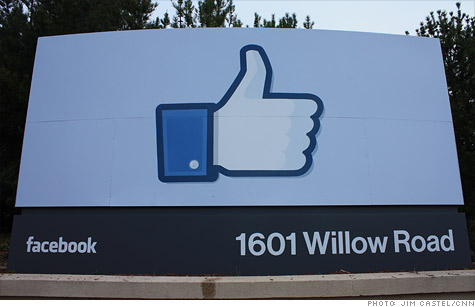 NEW YORK (CNNMoney) -- In a sign of strong demand from investors for shares in its upcoming initial public offering, Facebook is raising the target price range for its stock.
Facebook now expects to price its shares at $34 to $38 each, up from the $28 to $35 range it set earlier this month, according to its latest filing with the Securities and Exchange Commission early Tuesday.
Facebook executives and the company's IPO underwriters have spent the past two weeks on the road meeting with potential investors and measuring the demand for the company's stock.
The investor response has been "nothing short of pandemonium," one source familiar with the discussions told CNNMoney.
If Facebook (FB) prices at the high end of its new proposed range, the company's valuation would hover around $81.2 billion on the day of its IPO.
Many Facebook employees and executives, including founder Mark Zuckerberg, hold unexercised stock options. The company itself is also holding some shares for future employee equity grants.
If all of those shares were exercised, Facebook's outstanding share count would rise to around 2.8 billion, pushing its valuation closer to $106.4 billion.
Facebook's proposed IPO price range isn't binding, and it could rise further if demand is heavy. The company expects to set its final price Thursday evening.
The final price is the one at which Facebook's underwriters will sell shares to their clients, which typically include large institutional investors, mutual funds and hedge funds.
Retail investors will get access to Facebook shares the next morning, when the stock begins publicly trading on the Nasdaq exchange. That is currently on track to happen Friday.
Living without Facebook? We want to hear from people who have logged off for good. Upload to CNN iReport: on.cnn.com/KfGQ36