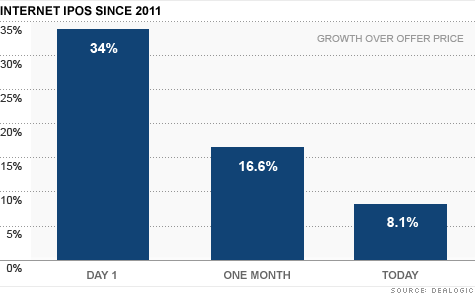 NEW YORK (CNNMoney) -- There are plenty of reasons to "like" Facebook, but Internet IPOs are better known for their epic flops than wild successes.
Of the 31 Internet IPOs held since the beginning of 2011, 22 are currently trading below their closing price on the day they went public. Here's an even scarier stat: 16 are trading below their offer price.
After popping by a collective 34% on IPO day, those 31 stocks are now trading at an average of just 8% above their offer prices. Excluding LinkedIn (LNKD) and Zillow (Z), which are trading at more than double their offering prices, the rest of the Internet IPO list is collectively up by just 2%.
Generalizing across more than two dozen Internet companies is tricky, because they all have different business models, but the trend has been quite consistent: Internet IPOs get a nice bounce on day one of public trading, then slide off in subsequent days and weeks.
That's the environment in which Facebook (FB) is offering its shares to the public. The social network had an initial pop of about 11%, soaring as high as 18% before falling back some. By midmorning, Facebook's shares were trading right around its IPO price.
"It's hard to say exactly what's going to happen with Facebook, but from what we're hearing on the demand side of things, I wouldn't expect Facebook to do anything out of the ordinary in terms of beating this trend," says Nathan Drona, analyst at ABR Investment Strategy. "There will be an initial bump, but then the time to exit is at the strength of that rise."
Facebook priced its IPO at $38 and Drona expects shares to eventually fall back to a range of $31 to $33.
The bump-and-slide trend is caused by investors' initial enthusiasm during IPOs -- which eventually gets replaced by an examination of the companies' business fundamentals.
Wall Street analysts remain concerned about Facebook's slowing growth, weak ad sales-per-user numbers and lack of monetization of its mobile products.
Stephan Paternot, founder of 1990's dot-com poster child theGlobe.com, knows a little about what Facebook is getting itself into.
TheGlobe.com was a pioneering Internet community, and its November 1998 IPO generated an investor frenzy. On its first day of trading, the stock had one of the biggest IPO surges in history, soaring by 606%.
The never-profitable company never again traded as high, and was out of business within five years.
"Unfortunately, our run-up on IPO day meant we left $200 million to $300 million on table and raised only $30 million," Paternot told CNNMoney this week. That's a problem underwriters are supposed to guard against: Because companies get cash only for the shares they sell directly, they don't profit when IPO buyers resell their shares for huge gains.
"The positive side was it created a branding event -- by the end of the day, everyone had heard of theGlobe," Paternot recalls. "But when every institutional investor flipped it the next day, the stock went down, and everyone thought there was something wrong with us."
The current Internet IPO trend is starting to echo the 1990's dot-com bubble.
The most famous example from go-go days is VA Linux, a PC company whose shares jumped 698% in its first day of trading -- still a U.S. record, according to Dealogic. That stock also never traded higher than on its IPO day, falling from $239 all the way down to $8.47 a year later.
Though their fall hasn't been nearly as epic, two of last year's super-hyped IPOs -- Groupon (GRPN) and LinkedIn -- have also never yet returned to the highs they reached on their IPO days.
The companies received bullish headlines when their IPOs popped: Groupon rose 31% and LinkedIn shot up 109% on their first days of trading. But the sentiment turned sour once their shares started slipping.
Though he believes Facebook's long-term potential is strong, in the near-term, Paternot thinks the bump-and-slide serves as a harbinger of things to come for Facebook.
"Facebook is as over-hyped and inflated as a company going public can be," he says. "All that company can do is slide down in the next six to nine months."