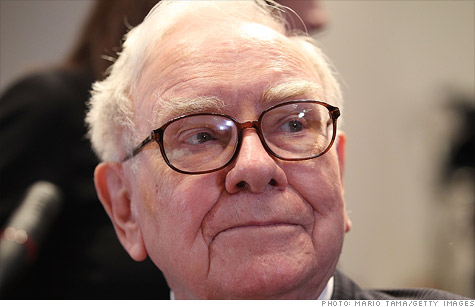 Warren Buffett has signed a deal to buy 63 newspapers from Media General.
NEW YORK (CNNMoney) -- Warren Buffett's company Berkshire Hathaway announced a deal on Thursday to purchase 63 newspapers from Media General -- an industry that Buffett recently referred to as "declining."
Berkshire Hathaway (BRKA, Fortune 500) said it will purchase most of Media General's (MEG) daily and weekly newspapers for $142 million in cash.
Separately, Berkshire Hathaway has also signed a credit agreement with Media General for a $400 million term loan and a $45 million revolving credit line.
"In towns and cities where there is a strong sense of community, there is no more important institution than the local paper," said Buffett, a former paper boy who owns Omaha World-Herald and other publications.
Buffett's statement seems to run counter to statements that he made on May 5, at Berkshire Hathaway's annual shareholder gathering in Omaha. At that event, Buffett referred to the newspaper industry as a "declining" industry with "problems."
When a member of the audience asked him how to deal with a declining industry, Buffett replied, "Generally it pays to stay away from declining businesses. [The] newspaper business is a declining business and we will pay a price to be in that. That is not where we will make real money at Berkshire."
But speaking about the newspaper industry in general, Buffett also said, "I think the economics will work out OK. It's nothing like the old days, but I think it will work out OK."
Buffett also said that newspapers have "lost primacy," though he added that "they are still primary in a great many areas. They still tell me something primary that I can't find elsewhere."
Buffett is known for his preference for older technologies, like trains, with his purchase of Burlington Northern.
He doesn't necessarily avoid technology companies. But while he has holdings in Intel (INTC, Fortune 500), DirecTV (DTV, Fortune 500) and IBM, his appetite for tech is limited. He recently told investors at his annual meeting that he was ruling out investments in Apple (AAPL, Fortune 500) and Google (GOOG, Fortune 500).
He also said that he was staying away from the social media giant Facebook, which has captured the attention of Wall Street with its plans for an initial public offering to be priced on Thursday. But this is because he avoids IPOs.
Media General said it's selling off its newspapers except for the Tampa Tribune and other "print assets" in its "Tampa group." This includes two other print dailies and 23 smaller publications -- such as weeklies. Media General is also holding onto 18 television stations throughout the Southeast.
Another prospective buyer is trying to score the Tampa papers, according to Media General.
CNN's Chris Kokenes and Poppy Harlow contributed to this report.