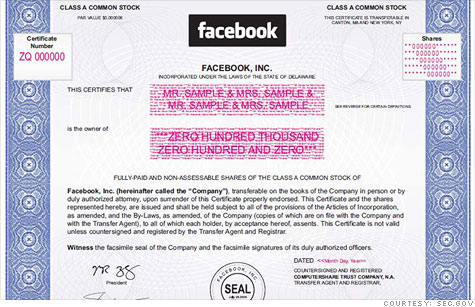 Want to buy a share of Facebook? You'll have to wait an hour or so after the opening bell to do it.
NEW YORK (CNNMoney) -- The most hyped IPO of the year is here, but you won't be able to trade Facebook's stock right when the market opens at 9:30 on Friday.
That's because Facebook (FB) will trade on the Nasdaq exchange, which doesn't open up initial public offerings until a bit later in the trading session.
"It's not a delay or a problem, just a matter of style," said a source familiar with Nasdaq's process. "We want to have an IPO stand alone at its own special time."
The company in question -- right now, that's Facebook -- can decide when to debut and works with Nasdaq to set the time. Technically, an IPO stock could even start trading in the afternoon, as long as it's well before the closing bell at 4 p.m. ET.
But most recent Nasdaq IPOs have typically begun trading a few minutes before 11 a.m. ET. That's when Groupon (GRPN), Zynga (ZNGA) and Angie's List (ANGI) made their debuts.
Still, the opening times vary. For example, Splunk (SPLK) began trading on the Nasdaq at 11:20 a.m. on April 19. The next day, Proofpoint (PFPT) opened at 10:25 a.m.
A representative from Nasdaq declined to comment on what time Facebook's stock will open on Friday.
The trading site StreetInsider.com typically posts that information as soon as it's available. StreetInsider editor Lon Juricic says the site gets its timing information after Nasdaq releases it to traders in the morning.
How it works: On the morning that an IPO begins trading on the Nasdaq, the exchange starts a process called the "IPO cross." During that time, traders can submit buy and sell orders. The Nasdaq matches up those orders in real-time on its electronic marketplace -- a process that typically takes 40 microseconds or less.
Those orders can be entered into the system, but they aren't actually completed until the stock begins trading.
"It's really business as usual," a source close to Nasdaq said of the plans for Friday's trading. "Same policies, same procedures. This time there are just more questions because it's Facebook."
By comparison, the New York Stock Exchange starts trading IPOs soon after the opening bell. Recent IPOs LinkedIn (LNKD), Pandora (P), Yelp (YELP) and Annie's (BNNY) all began trading on the NYSE by 10 a.m.
-- CNNMoney's Hibah Yousuf contributed reporting.