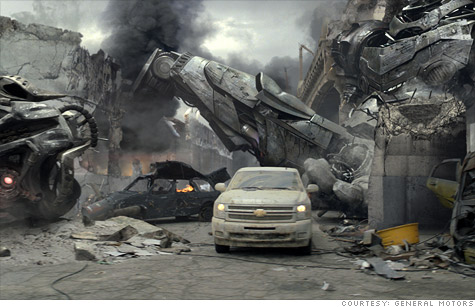 During last year's Super Bowl, GM ran an ad implying that only its Chevrolet Silverado trucks could survive an apocalypse. But apparently, even GM couldn't live with next year's Super Bowl ad prices.
NEW YORK (CNNMoney) -- General Motors will not advertise during this year's Super Bowl game, the automaker said Friday.
It's a big change for GM which had returned to Super Bowl advertising after sitting out 2009 and 2010 as the automaker recovered from economic disaster and bankruptcy. GM executives have said that ads during the game were very effective.
Advertisers paid an average of $3.5 million for a 30-second ad during last year's Super Bowl, which was broadcast by NBC. Next year's game will be broadcast by CBS.
"We understand the reach the Super Bowl provides, but with the increased price, we can't justify the expense," GM spokesman Pat Morrissey said.
Morrissey would not say how much CBS was asking but he said it was more than was demanded last year. CBS did not immediately return a call asking for comment.
The move was first reported Friday by the Wall Street Journal.
General Motors (GM, Fortune 500) also recently announced it would stop buying paid ads on the social media Web site Facebook, athough the company said it would continue to operate free pages on the site for its various brands.
The automaker is not reducing its overall ad spending, Morrissey said, and may even spend slightly more this year than it has in the past.
GM, the nations's biggest-selling automaker, has traditionally been among among America's biggest-spending advertisers. Between 2002 and 2011, GM was the third biggest spender on Super Bowl ads after Anheuser-Busch InBev (AHBIF) and PepsiCo (PEP, Fortune 500), according to analysts at Kantar Media.
The automaker spent nearly $83 million on Super Bowl ads during that time, Kantar Media said.
During last year's Super Bowl, GM broadcast a controversial Chevrolet truck ad that brought an objection from Ford over a claim that Chevy sold the "longest-lasting, most dependable truck on the road."