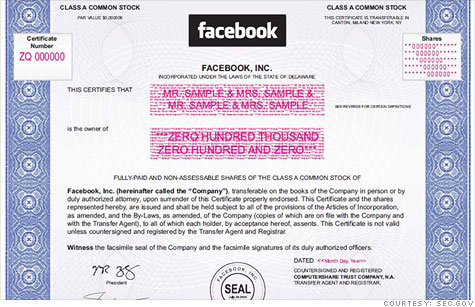 Facebook included this stock certificate mock-up in its IPO filing, but it no longer plans to issue paper certificates.
NEW YORK (CNNMoney) -- Facebook investors hoping for a tangible marker of their ownership stake are out of luck. The company won't be offering paper stock certificates, despite earlier indications that it planned to make them available.
The operators of two stock-sale websites, OneShare.com and GiveAShare.com, said they learned of Facebook's change of heart late last week. Computershare, which handles Facebook's shareholder records, contacted them to say no paper stock certificates would be forthcoming.
"It was a complete surprise, given that they had it in their IPO filing," says Rick Roman, the founder of GiveAShare.com. Facebook's IPO documents include a mock-up of its planned stock certificate.
Both Facebook (FB) and Computershare declined to comment on the reversal.
Facebook joins a growing number of companies that no longer issue paper stock certificates. Regulatory changes over the past decade have made it easier to go all-digital, which is generally cheaper and more convenient for both companies and their shareholders. The "no paper" list now includes major tech companies like Apple, Intel (INTC, Fortune 500) and Microsoft (MSFT, Fortune 500), which ditched its paper certificates last month.
Going paperless is more efficient, but it's a bummer for fans of the iconic certificates. They've become collector's items that are sometimes worth more than the stock itself. A share of Apple (AAPL, Fortune 500) currently sells for around $560, but on Scripophily.com, a website that deals in old certificates, a 1998 Apple stock certificate will set you back $695.
Facebook's digital-only move was a frustrating curveball for sites that specialize in selling single stock shares to collectors and brand fans. IPO-day demand for Facebook shares was intense, they say.
"We got more orders in a couple of hours than we do for the whole Christmas season," Roman says of Friday's sales rush.
"It was huge," says OneShare.com CEO Lance Lee. "The last time we had a day that big was when Pixar was bought by Disney. For all the fans of Pixar, it was the last chance to get the stock certificate."
With Facebook, both OneShare and GiveAShare switched gears quickly. They came up with placeholders to offer buyers and adjusted their listings to make it clear exactly what customers would be getting.
GiveAShare.com plans to issue a keepsake certificate facsimile, along with a statement from Facebook's transfer agent showing the customer's account number and their official single-share holding. OneShare.com is creating a "statement of ownership," free of any legally problematic trademarks or logos. It's a plan the company's securities lawyers signed off on, Lee says.
"On the plus side, I think it's going to be more visually interesting," Lee says. "On the negative side, it's not the official stock certificate. We're calling it a symbolic certificate."
It's a tactic he's resigned -- reluctantly -- to having to use again as more companies go the digital-only route.
"I'm hoping they'll change their mind," Lee says of Facebook. "Look at it another way: You have a group of people that are buying your stock and never plan on selling it. These people don't see themselves as customers. They see themselves as part-owners."