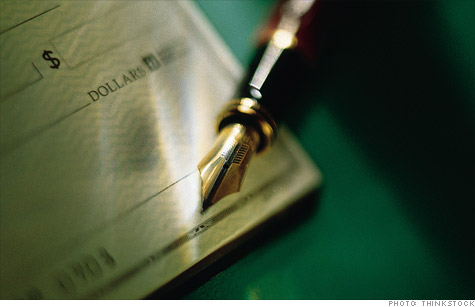 While high-yield checking accounts often make customers jump through more hoops - it can be worth it.
NEW YORK (CNNMoney) -- Rates on high-yield checking accounts continue to fall, but some banks and credit unions are offering deals that let you earn far more on your cash than many other banking products out there, according to Bankrate's annual survey.
The average high-yield checking account earns 2.05% annually, down from 2.56% last year and 3.30% in 2010, according to Bankrate's survey.
While high-yield accounts often make customers jump through more hoops -- like requiring a certain number of debit transactions per month, online bill pay or direct deposit -- it can be worth it. At an average APY of 0.06%, standard interest-bearing checking accounts pay barely enough to notice.
And high-yield checking account rates also handily beat the next best alternative for liquid cash: online savings accounts.
"For account holders who can routinely meet the monthly requirements, high-yield checking accounts are a no-brainer cash investment," said Greg McBride, senior financial analyst for Bankrate.com.
The Boeing Employees Credit Union tops Bankrate's list of high-yield checking accounts. The credit union, which is open to Boeing employees and their family members as well as residents of the state of Washington, currently pays a 6.17% annual yield on its Advantage Savings and Checking Accounts. The next highest-earning account is Consumers Credit Union's nationally-available Free Rewards Checking account, which pays an APY of 4.09%. (See the list of the top 10 highest yielding checking accounts below).
If a customer fails to make the minimum 10 debit transactions in a month or any of the other requirements the bank imposes on a high-yield account, however, rates revert to a vanishingly low default level, usually somewhere between 0.05% to 0.15%.
In addition, the banks only pay those high yields up to a certain amount; any cash kept in the account over that amount earns the much lower default rate. Boeing's cap, for example, is just $500 so the 6.17% yield can't produce much more than $30.85 a year in interest.
Other caps are not so miserly. Consumers Credit Union pays its generous yield on deposits of up to $10,000, according to Bankrate. Depositors could clear more than $400 a year in interest should they keep $10,000 in their account at all times and meet all of the requirements.
Hundreds of small community banks have joined forces to offer these kinds of high-yield checking accounts under the national brand name Kasasa to their customers.
And while some of high-earning checking accounts are only available to residents of particular states or members of certain organizations, 23 of the 57 accounts Bankrate surveyed are available nationwide to anyone who picks up a phone, said McBride.
"Whether one is right for you boils down to whether you can meet the requirements," said McBride.

10 checking accounts with big payoffs
Institution
and account name
APY (as of
4/18/2012)
Debit Transactions Required
Balance
Cap
Notes
Boeing Employees Credit Union
Advantage Savings and Checking Accounts
6.17%
1
$500
Available to Washington State residents, current or former Boeing employees or family members; One (1) direct deposit, debit transaction, online billpay or transfer of funds between accounts to qualify for rate; Default rate APY 0.1%
Consumers Credit Union
Free Rewards Checking
4.09%
12
$10,000
Available nationally; Either one direct deposit, ACH payment or billpay per cycle; Default rate APY 0.01%
Jeff Davis Bank
Kasasa Cash
3.25%
10
$10,000
Only available in La. and South East Texas; Either one direct deposit or ACH auto payment; Default rate APY 0.1%
Ouachita Independent Bank
OIB Rewards Checking
3.01%
12
$15,000
Only available to residents in La., Texas, Ark., Miss.; Either one direct deposit or automatic payment; Default rate APY 0.05%
Worthington Federal Bank
Kasasa Cash
3.01%
10
$15,000
Only available in Huntsville and Birmingham, Ala. areas; Either one direct deposit or automatic payment required; Default rate APY 0.05%
Heartland Community
BankInterest Plus + Cash Back
3.00%
10
$15,000
Currently only available in Ark., should be nationally soon; Either one direct deposit or auto payment; Default rate APY 0.05
Lake Michigan Credit Union
Max Checking
3.00%
10
$15,000
Available nationally ($5 donation to charity required if out of credit union area); Either direct deposit or ACH deposit; Default rate APY 0.0%
First Clover Leaf Bank
My Great Rate Checking
2.85%
10
$15,000
Only available to Ill. and Mo. residents; Either one direct deposit or ACH auto debit, and 3 online bill payments; Default rate APY 0.15%
Liberty Bank
Kasasa Cash
2.76%
15
$10,000
Available nationally but must be opened in person at branch; Either one direct deposit or automatic payment; Default rate APY 0.1%
BankTexas
Kasasa Cash
2.75%
10
$10,000
Only available to Texas residents; Either one direct deposit or automatic payment; Default rate APY 0.05%
Source: Bankrate.com