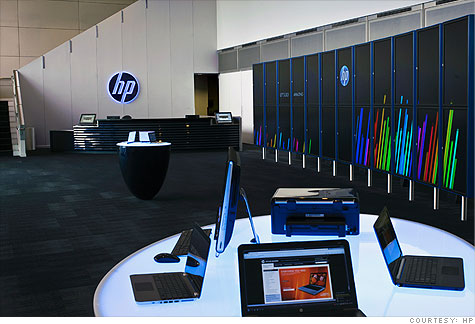 Hewlett-Packard will lay off around 25,000 employees, but that may not help it fix its core problems.
NEW YORK (CNNMoney) -- Hewlett-Packard will announce another round of substantial job cuts Wednesday afternoon in an effort to streamline its teetering PC and services businesses, a source familiar with the plans told Fortune.
The layoffs will be "in the ballpark" of 25,000 workers, the source said, which would amount to about 7% of HP's global workforce. The nation's largest technology company by revenue currently employs 349,600 people worldwide, according to its latest regulatory filing.
CEO Meg Whitman is trying to reorganize the tech giant into a leaner, more efficient powerhouse, but she faces a massively uphill battle.
The overall PC industry is stuck in neutral, but HP (HPQ, Fortune 500), the world's largest computer maker, is traveling in reverse at high speed. The company's PC sales fell 15% during the holiday season, with consumer computer sales tumbling 25%.
Meanwhile, HP's services business is sputtering, and its once-golden printing business has stagnated over the past decade. The printing business slumped especially hard in the last few years: profit in that division fell 10% last year as sales remained flat.
Many of the job cuts are expected to come from the printing unit. The company in March merged it into its "personal systems" division, which includes PCs.
HP had considered spinning off its PC unit last year, but the board later decided that it would hang on to the business-critical but low-margin division.
That may ultimately have been the right decision, but HP has deep problems in the market. It missed the boat on tablets and failed to produce a viable smartphone. As the world goes mobile and leaves PCs behind, HP is struggling to stay relevant.
It's not alone. Dell (DELL, Fortune 500), which faces similar struggles, reported Tuesday that the company's lackluster PC sales dragged on its overall profit and revenue last quarter. Its stock fell more than 12% in after-hours trading.
Whitman can trim some of HP's fat, realign the organization and make other iterative improvements, but there's not much she can do to significantly alter the company's prospects without making some drastic -- and painful -- changes.
HP's past attempts to cut its way to better health haven't worked.
Then-CEO Mark Hurd axed 9,000 positions in June 2010. HP shed another 275 workers in February after the company discontinued the webOS lineup that it purchased from Palm.
Still, HP has continued spiraling downwards. Wall Street analysts surveyed by Thomson Reuters are forecasting that HP's sales fell 5% last quarter, and they expect its profit to be down 26%.
That trend, of movement in the wrong direction, is expected to continue throughout the rest of 2012.