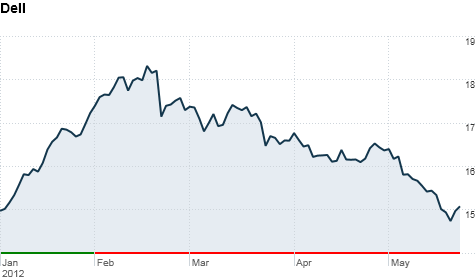 Dell's stock plunged after hours on gloomy forecasts for PCs.
NEW YORK (CNNMoney) -- Computer maker Dell's stock plunged more than 13% in premarket trading Wednesday, following an earnings miss and forecasts that fell below expectations.
Dell's first-quarter profits of 43 cents a share missed analysts' estimates of 46 cents per share. First-quarter revenue came in at $14.4 billion compared to the $14.9 that was expected. Revenues were down 4% from the first quarter of 2011.
In its earnings release late Tuesday, Dell (DELL, Fortune 500) highlighted the company's shift away from personal computer sales, citing an increase in sales of servers, storage and networking services in the earnings release.
"We're committed to continuing our strategy to reshape Dell's business as an end-to-end IT provider," said Michael Dell, chairman and CEO, in press release.
Dell competitor Hewlett-Packard (HPQ, Fortune 500) announces earnings after the closing bell on Wednesday and is widely expected to announce mass layoffs.