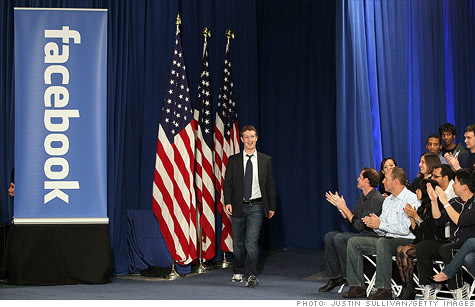 Committees in the Senate and the House are looking into the Facebook IPO deal, but Facebook has friends in Washington.
WASHINGTON (CNNMoney) -- Senate and House committees are looking into the controversial launch of Facebook's initial public offering.
The Senate Banking Committee will hold staff briefings with regulators, officials from Facebook, regulators and "other stakeholders," to find out more about the deal, according to an aide to the Democratic majority on the committee.
Lawmakers on the panel haven't yet launched a full-on investigation into Facebook, which could include subpoenas and depositions.
The House Financial Services Committee is also looking into Facebook's launch, a spokesman from that panel confirmed Wednesday.
House Financial Services staffers are getting briefed on Facebook's IPO launch. And while no hearings have been called regarding the issue, lawmakers will have an opportunity to discuss it in coming weeks, the spokesman said.
A Facebook spokesman declined to comment.
Facebook has lost more than 16% of its value since it went public last Friday.
The IPO was one of the most anticipated of all time. It was priced at $38 a share on Thursday by a consortium of 33 underwriters led by Morgan Stanley (MS, Fortune 500) and also including JPMorgan Chase (JPM, Fortune 500) and Goldman Sachs (GS, Fortune 500).
But the launch was flawed. Nasdaq delayed trading, causing confusion among investors.
On Wednesday, three investors sued Facebook, CEO Mark Zuckerberg and the underwriters, accusing them of withholding negative information. A report from Reuters said Morgan Stanley shared a negative assessment of the social network with major clients
Analysts say the company's stock has promise, considering that Facebook has more than 900 million members. But its future hinged on its ability to glean advertising revenue from its legions of users.
Facebook has plenty of lobbying and political clout in Washington to respond to a congressional inquiry.
Three years ago, the social network didn't have a presence in Washington. Since then, it has put together an impressive Washington office, including a communications team and five in-house lobbyists, plus 25 additional hired lobbyists, according to congressional records.
So far this year, Facebook has spent $650,000 on lobbying on top of the $1.35 million spent in 2011, according to the Center for Responsive Politics.
Facebook lobbyists are registered to talk to all the top federal agencies, including the Federal Trade Commission and Homeland Security, as well as Congress and the White House.
The company also set up its first Political Action Committee last September and has spent $119,000 on political campaigns in 2012, according to records filed in April.
Facebook spread the wealth between Democrats and Republicans, targeting Democratic leaders such as House Minority Leader Nancy Pelosi and Sen. Charles Schumer, who is on the Senate Banking panel.
But it gave $5,000 contributions to Republican leaders, including House Speaker John Boehner, Majority Leader Eric Cantor and Senate Minority Leader Mitch McConnell.
Facebook also contributed $2,500 to Rep. Darrell Issa, a California Republican who runs the House Oversight Committee, and $2,500 to Pat Toomey, a Pennsylvania Republican on the Senate Banking panel.
-- CNN's Ted Barrett and Deirdre Walsh contributed to this report.