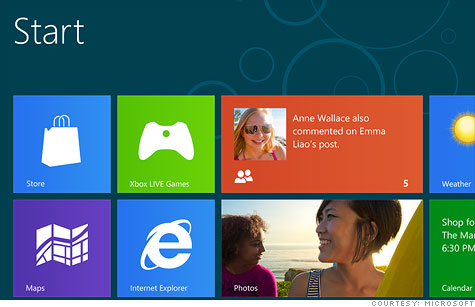 Microsoft's Windows 8 will bring an app-like interface -- and an app store sales model -- to traditional PCs.
NEW YORK (CNNMoney) -- Microsoft is aiming to do something wildly different to beat Apple. At the same time, Microsoft is also trying to copy a very successful business model to be Apple.
When Windows 8 debuts this fall, Microsoft (MSFT, Fortune 500) will launch a curated app store for Windows software. For the first time, the primary way Windows users will get third-party applications will be through Microsoft itself.
It's a model that has paid off for Apple (AAPL, Fortune 500) and been copied, with varying degrees of success, by many others -- most notably Google (GOOG, Fortune 500) and Amazon (AMZN, Fortune 500). Apple, which takes a sizable cut on sales in its app store, brought in revenue of $2.1 billion last quarter from third-party apps and music sales on iTunes.
Though lucrative, the app store model can also be restrictive. Apps have to be approved, and cynics point out that app store curators could block competitors' apps. For instance, it took Apple more than a year to allow Google Voice on the iPhone, a move it only made after government regulators started asking very pointed questions.
App stores can also be fragmentary. Certain apps -- and even some content like popular e-books -- are available exclusively on individual app stores. That makes for a frustrating user experience.
"The industry is in a phase right now where we've gone from almost complete interoperability between devices to one that is highly splintered," says Al Gillen, analyst at IDC. "The implication is when you select a device, no matter how cool it is, if the ecosystem that supports the device doesn't have all the things you want, that's going to discourage you from buying it."
This is a new problem for Microsoft, at least in the desktop realm. With a 92% share of PCs and an open platform, Windows users have never really had to worry about whether certain software will run on Windows. It's pretty much a given that it will.
But for Windows 8, Microsoft is skewing in the Apple direction. Standard Windows 8 PCs will come with two modes: The touch-based "Metro" interface and a more traditional desktop mode. Metro apps will only be available through Microsoft's app store.
Users can still install traditional software in desktop mode -- with one big and critical exception. Microsoft is selling a second version of its new Windows software, called Windows RT, which will run on the power-sipping ARM-based processors that power the vast majority of smartphones and tablets.
Third-party software for Windows RT will only be available through Microsoft's app store.
It's pretty clearly the thin end of a wedge.
"Windows 8 is a transitional product -- Microsoft's awkward teenage stage of growing into a post-PC world," says Sarah Rotman Epps, an analyst at Forrester Research. "ARM (ARMH) and Metro are the future of the Windows platform, but they're not ready to completely get rid of the desktop just yet."
Microsoft itself expects Metro to ultimately replace the traditional desktop experience. It's Microsoft's main play in fast-growth areas like the tablet market. By 2016, Metro tablets will represent 17% of the global tablet market share, Forrester Research predicts.
That has some developers wary about the controls Microsoft is putting in place.
Firefox browser maker Mozilla fired off an angry blog post earlier this month lambasting Microsoft for "an unwelcome return to the digital dark ages." Google echoed Mozilla, saying Windows RT is "restricting user choice and innovation."
A Microsoft representative declined to respond to those criticisms.
Here's what Google and Mozilla are really worried about: When Windows RT users switch to desktop mode, Microsoft's Internet Explorer will be the only browser option. That's similar to how Apple once operated -- Safari was the only browser it allowed on the iPhone for years -- but developers cite it as an ominous sign.
Welcome to the curated world of Windows.
"You're completely under the mercy of whichever company is running the application store," says Tim Tisdall, a freelance software developer familiar with multiple app stores. "I don't know if many existing Windows developers are going to want to start opting in to a model where their entire future is dependent on Microsoft 'allowing' them to continue."
There's a flip side, of course. Where some see restrictions, others see opportunity.
"All app stores have their quirks, but we love them, because they give us a phenomenal opportunity for distribution," says Brian Phillips, product "guru" at Flixter, a movie reviews and show times app. "More consumers discover us through app stores."
A powerful Microsoft app store would give apps access to Windows' "huge user base," echoed Pascal Rachenuer, head of interactive Media at AccuWeather.
It could also give users a better software experience. A curated app store would give Microsoft the opportunity to restrict the manufacturer-installed bloatware that has plagued PCs for generations, IDC's Gillen points out.
Still, there's something uncomfortable about Microsoft, convicted a decade ago of using its monopolistic power to illegally squash rivals, holding veto rights over its customers' computing experience.
Apple, the benevolent tyrant ruling the iEverything universe, has trained us to cede control on tablets and smartphones -- something millions of customers do happily. The twist here is the way the device lines are blurring. Apple still keeps its Mac and iOS realms separate. Microsoft wants to collapse mobile devices and the desktop into one ecosystem.
Will the Apple model work on traditional PCs? Thanks to Microsoft, we're about to find out.