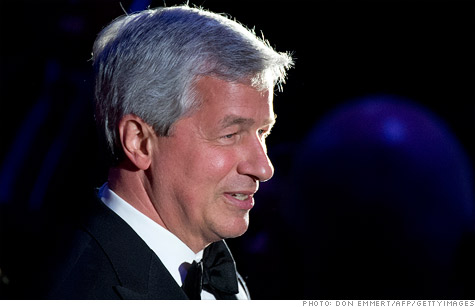 JPMorgan Chase CEO Jamie Dimon has been invited to appear before a Senate panel on June 7.
NEW YORK (CNNMoney) -- JPMorgan Chase CEO Jamie Dimon has been invited to testify before the Senate Banking Committee on June 7 regarding the $2 billion trading loss his bank announced earlier this month.
"I expect Mr. Dimon to come prepared to provide the committee a better understanding of this massive trading loss so we can take the implications into account as we continue to conduct our robust oversight over the full implementation of Wall Street reform," Banking Committee chairman Tim Johnson said in a statement.
JPMorgan (JPM, Fortune 500) spokeswoman Jennifer Zuccarelli declined to say whether Dimon would appear on June 7.
"Jamie will of course be available to testify next month," Zuccarelli said. "We are working with the House and Senate to determine a timeframe that will work for both chambers in June and allow us to provide the most thorough testimony."
JPMorgan's surprise loss resulted from trades that were originally designed to hedge against risk, but grew in size and complexity. The FBI and federal regulators have since begun investigating the matter.
Sources have told CNNMoney that the losses on JPMorgan's trading could rise toas much as $7 billion. Dimon has called his bank's actions "stupid," but says the losses were "an isolated event."
The House Financial Services Committee is also planning a hearing on JPMorgan's loss, though a date for that hearing has not been set.