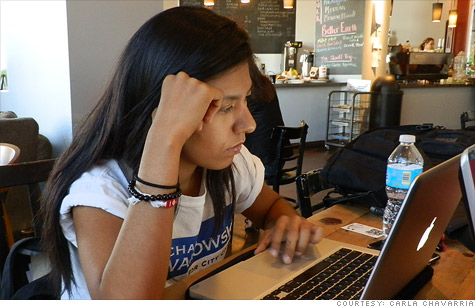 Dream Act entrepreneurs like Carla Chavarria, 19, are young undocumented immigrants who run small U.S. businesses -- but could get kicked out of the country.
NEW YORK (CNNMoney) -- It happens every time Celso Mireles, a tech consultant who runs a successful business in Phoenix, hops into his pickup truck and drives past a police car. His stomach turns. His chest tightens.
He could be deported any minute.
Mexican-born Mireles, 25, is among nearly 2 million immigrants in the United States illegally who were brought here as children by their parents.
Without a path to residency or citizenship, these immigrants are prevented from getting regular jobs without lying or obtaining fake papers. Many are forced to become entrepreneurs. But increasingly hostile state laws have relegated these small businesses to the shadows, making it harder for them to prosper.
Although most remain quiet about their legal status, a few entrepreneurs have decided to speak to CNNMoney about the dilemma. They hope to change the tone of the immigration debate, one they see as bitter and xenophobic.
Mireles is one of them. He was three years old when his parents left grueling jobs at Mexican factories known as maquiladoras. To escape the low-paying work, they traveled north by plane and overstayed their visas.
In 2009, Mireles earned a business management degree from Arizona State University, but no company would hire him because of his status. That summer, as he worked on a scorching hot alfalfa field in Colorado, he grew resentful.
"If they won't take my business here, then I'll take my education to another country, make millions, and rub it in America's face," Mireles thought.
But he overcame that, replacing his anger with a desire to stay and join the business community in Phoenix.
"It's where I had my first kiss, where I learned to drive, where I graduated high school," Mireles said. "Sometimes I catch myself about to say 'born and raised' in Phoenix, then I realize I wasn't born here."
Because of his status, Mireles can't get a credit card or apply for a bank loan to expand his company, Computer Dude Services. He relies solely on incoming cash, which was $9,000 last year and which he expects to reach $40,000 this year.
Undocumented immigrants like Mireles who were brought here as children are often called "Dream Act kids" -- or "Dreamers" -- after the Dream Act, a long-standing proposal in Congress.
The bill would provide these undocumented immigrants permanent residency if they show good moral character and either attended college or enlisted in the military. It was last voted down in 2010, and few think another attempt will be made this election year.
Still, Dream Act kids like Mireles and Carla Chavarria keep up the hope.
Chavarria, a 19-year-old graphic designer and budding entrepreneur in Phoenix, treks to and from client meetings by bus because she fears getting caught driving without a license.
She is also in an awkward position when her clients ask about her education. She had to drop out of Scottsdale Community College when tuition exploded after Arizona refused undocumented immigrants in-state tuition rates. She now attends nighttime trade school classes at a local high school.
Her mother, who left a Mexican factory 12 years ago and now cleans homes, laments the obstacles her daughter faces. She asked that her name not be used.
"Few of the young people born here take advantage of their opportunities here," she said. "And my daughter, with the little she's been able to study, has done so much with so little. If she had all the tools they give citizens, she'd be more than what she is now."
Wil Prada is another Dream Act entrepreneur.
Prada's father left Peru in 1991 to escape the violent, leftist Shining Path guerrillas. His mother followed in 1994 when he was seven years old on a three-week trek through Central America. Prada remembers being torn from his mother's arms by a hefty stranger who carried him across a river along the U.S.-Mexico border.
His father was deported in 2007. That forced Prada, then a political science student at the University of California in Los Angeles, to run his father's landscaping business himself.
Prada started to feel trapped. It dawned on him that he had few other work options. He said he became depressed, and the company slumped on his watch.
"Your whole life you're told you have to get an education and you'll be successful if you do," Prada said. "I finished and I couldn't use my degree."
But he picked himself up and taught himself how to give client estimates, repair sprinklers and better lead his sole employee, a documented Mexican immigrant.
Prada, now 25, maintains lawns for 40 homes and earns himself $25,000 a year.
"I realized that we have to change this social notion that we're bad for the country and we're leeches," Prada said. "We're human. We have families. We contribute."
Did you start a business in a dangerous place? Not everyone goes to Main Street U.S.A. to fulfill their entrepreneurial dreams. Have you launched a successful business in a violent neighborhood? A hostile foreign land? A war zone? Or even just somewhere very remote that's hard to get supplies to? Tell us about it and you could be featured in a future CNNMoney story.