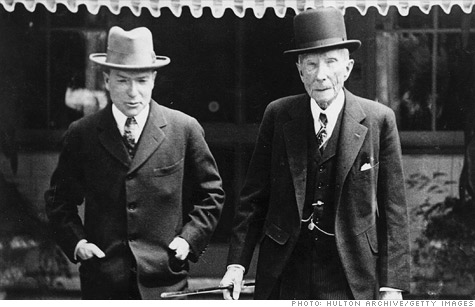 John D. Rockefeller Jr., left, and John D. Rockefeller, who dealt with the Rothschilds more than a century before Wednesday's deal.
NEW YORK (CNNMoney) -- Two of the most storied families in the business world -- the Rothschilds and the Rockefellers -- are coming together in an investment partnership.
The Rothschilds' London-listed RIT Capital Partners said Wednesday that it will acquire a 37% stake in Rockefeller's wealth advisory and asset management group from Société Générale Private Banking for an undisclosed sum.
The deal gives the Rothschild trust, whose net assets total £1.9 billion, a toehold in the United States.
RIT said the partnership stems from a personal relationship between David Rockefeller, 96, and Jacob Rothschild, 76, that spans five decades.
But the thread that sews these dynasties together dates back much further. In the 1890s, after fierce competition between them, the Rothschilds and John D. Rockefeller's Standard Oil attempted to form a global oil marketing alliance that was eventually thwarted by Russia's government, according to Penn State University's College of Earth and Mineral Studies.
Since John D. Rockefeller, several family members have risen to prominence in finance and politics. They include Nelson Rockefeller, who was governor of New York and vice president of the United States, and John D. Rockefeller IV, currently the senior U.S. senator from West Virginia.
The Rothschild dynasty was established in Frankfurt by Mayer Amschel Rothschild in the late 18th century. The family's wealth, once estimated as one of the largest private fortunes in the world, allowed it to help finance Britain's war against Napoleon and a loan for the British government to purchase the Suez Canal. (What business leaders can learn from the Renaissance)
"The connection between our two families remains very strong," David Rockefeller said in a statement. "I am delighted to welcome Jacob and RIT as shareholders and partners in the ongoing development of our investment management and wealth advisory businesses."
The deal is expected to close by the end of September.