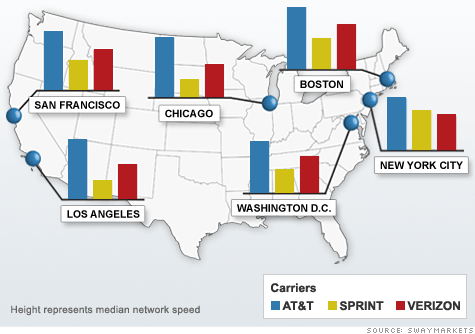 3G network speeds vary by city and carrier, according to data compiled by SwayMarkets' CarrierCompare iPhone app -- but speed alone doesn't tell the whole story.
NEW YORK (CNNMoney) -- The myth: You're getting five bars on your cell phone, so you're getting good service, right? The reality: It's way more complicated than that.
The answer to a very simple question -- "What's the best cell phone carrier in my area?" -- depends on a tangled web of factors, including the network's download speed, response time, signal strength, and the number of cell towers in your area.
You'll feel the effects of those factors. You'll notice the network's speed and stability when you browse the Web, download apps, stream music or buffer streaming video.
Carriers don't generally share any information about those metrics with the public. That means real network performance data and carrier comparisons have been almost impossible to calculate.
Until now.
With the help of Boston-based startup SwayMarkets and its CarrierCompare iPhone app, CNNMoney gained exclusive access to real, user-generated network data. (Click here to learn more about the methodology.)
CarrierCompare, released in April, allows iPhone users to see their network's speed and response time and contrast it with the other two major iPhone networks. SwayMarkets analyzed the 3G network data generated by CarrierCompare users in Boston, New York, Washington, Chicago, San Francisco and Los Angeles.
Get ready for a few surprises.
AT&T: As advertised, AT&T (T, Fortune 500) has the fastest 3G network: Its median speed was the highest in each of the six cities SwayMarkets measured. That's what you'd expect. AT&T's network technology has considerably higher top speeds than that of Verizon or Sprint -- in theory, at least.
That's the headline. The full story is much murkier.
AT&T delivers the most inconsistent experience, with speeds varying wildly depending on the time of day, SwayMarkets found. When the network gets more congested in the afternoon hours, download speeds become more of a crapshoot. Sometimes they're excellent, but usually they're just mediocre.
SwayMarkets also found that AT&T's network speeds do not come remotely close to what the company advertises.
AT&T labels its enhanced 3G service as "4G," but it's not the same as its far faster 4G-LTE service. The company says its enhanced 3G service -- the one it brands as "4G" -- offers a "smoother, more consistent 4G experience overall" than Verizon's.
AT&T likes to point out that Verizon's network has a steep drop off in speed when users downshift from 4G to 3G. Yet network congestion makes the drop-off from true 4G to enhanced 3G ("4G") on AT&T's network just about as steep as its rivals.
We ran these findings past AT&T. "While we haven't reviewed the data, there are always puts and takes in these types of surveys," a representative replied.
We've posted the full response from AT&T, Verizon and Sprint in our blog.
Verizon: Verizon's speeds were second-fastest in every city but New York, where it was third. Big Red came closest to AT&T in Washington and Boston, where Verizon's 3G speeds were 72% as fast as AT&T. It was farthest from the mark in Chicago, where it was half as fast.
But, as with AT&T, speed only tells part of the story. Verizon's network delivers a more consistent experience than AT&T's, with speeds varying less hour by hour.
Verizon (VZ, Fortune 500) also has by far the quickest network response time, meaning that Web pages begin loading faster than on any other network after a user clicks on a link. Verizon's network starts churning in half the time it takes AT&T's to respond, and often about a third of the time it takes Sprint's network.
That makes Verizon's network feel much faster, even if its actual speeds are slower than AT&T's.
SwayMarkets also found that Verizon has stronger signal strength than either of its competitors.
That can actually be a pretty inconsequential metric. So long as a user has at least one bar, the strength won't really affect download speeds.
But more bars does imply that Verizon has more cell towers in cities, giving consumers more access points to connect to. That results in more consistent data speeds and, often, in better voice clarity.
Sprint: Sprint's network speeds clocked in last in every city but New York, and it wasn't even close.
Sprint's 3G network offered speeds of less than a third of AT&T's network in Chicago and Los Angeles. By far its best speed performance is in New York, where its median speed was three-quarters that of AT&T.
The carrier's response times were also quite slow, often taking nearly three times longer than Verizon to start loading content. Sprint's network lag was the greatest in all six cities.
Yet Sprint (S, Fortune 500) offered by far the most consistent experience, with speeds rarely deviating more than 25% from the median. Sprint's signal strength was roughly comparable with Verizon's in four of the six cities, and it was always better than AT&T's.
The winner: AT&T is the clear speed winner.
Yet the crowd-sourced data collected by SwayMarkets' indicates that Verizon is the overall top performer. It's generally the best at getting users connected to its network and responding to requests, and its throughput (speed and consistency) are pretty good.
The networks, which do their own field testing of their own and rivals' networks, had their own views on SwayMarkets' data. None were particularly surprised by the conclusions. Our blog has the full text of their responses.
Here's the key takeaway from SwayMarkets' data dive: If you're thinking about which carrier is right for you, there's a lot more than bars to consider.