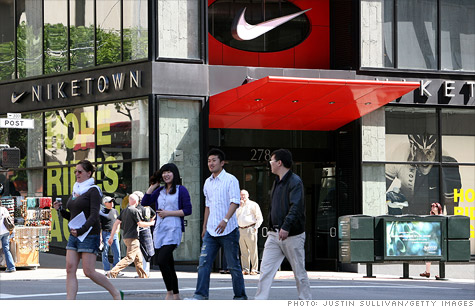 Analysts say that Cole Haan and Umbro aren't a good strategic fit for Nike.
NEW YORK (CNNMoney) -- Nike is hoping to put a spring in its step with its announcement Thursday that it plans to sell off two of its brands, Cole Haan shoes and accessories and Umbro soccer gear.
The leading athletic apparel and shoe maker said in a statement that it intends to focus on growing its namesake brand and its Jordan, Converse and Hurley lines, which have "unique consumer relationships that complement the Nike Brand."
"Divesting of Umbro and Cole Haan will allow us to focus our resources on the highest-potential opportunities for Nike to continue to drive sustainable, profitable growth for our shareholders," said Mark Parker, president and chief executive officer of Nike, Inc.
Nike (NKE, Fortune 500) has done well by its shareholders so far this year. For the third quarter it posted a 15% year-over-year jump in sales to $5.8 billion and net income of $560 million, up a 7%.
But Umbro and Cole Haan had little to do with gains.
"To my knowledge, Umbro and Cole Haan are not profitable," said Christopher Svezia, a footwear and athletic apparel analyst from Susquehanna Financial Group.
Analysts say that the deal is a smart move given the performance of the two brands.
"Nike can do everything it wants to do with the Nike brand itself," said Svezia.
According to Svezia, the decision to let go of the brands goes beyond just profitability and is also a strategic decision. The Umbro and Cole Haan brands, he said, didn't fit well with the parent company.
Nike bought Umbro in 2007 for $528 million, but Svezia says that the bet didn't pay off.
"It paid a lot of money for [Umbro] at the time and it's been a challenge ever since," he says. "The Nike brand penetrates into what Umbro does anyway. Why bother?"
Analysts are also asking 'why' about its deal with Cole Haan, which Nike acquired in 1988 for about $95 million. Despite endorsements from athletes including tennis star Maria Sharapova, the partnership weighed on Nike's profit margin.
"Nike sells athletically inspired apparel and footwear to a demographic that's teenage kids to young adults. Cole Haan is a premium-priced dress shoe brand," Svezia said. "It's a square peg fitting in a round hole."
Nike said in a statement that it will begin selling off the brands immediately and expects to complete the sale by May 2013, when the company's fiscal year ends.
Nike shares ended the day down by 7 cents.