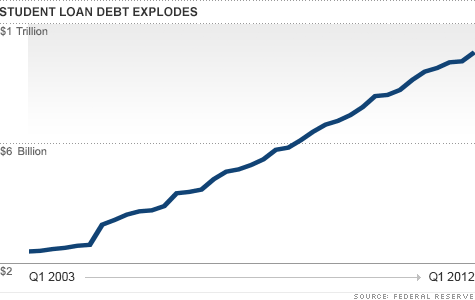 NEW YORK (CNNMoney) -- Student loans have more than tripled over the past decade, according to new data from the Federal Reserve.
Student loan debt hit $904 billion in the first quarter of 2012, up from $241 billion a decade ago, according to the Federal Reserve Bank of New York quarterly household debt report. That's up 275% since the same period in 2003.
Students continued heaping on debt throughout the economic downturn, even as Americans cut back on other forms of credit, such as mortgages and credit cards.
"It remains the only form of consumer debt to substantially increase since the peak of household debt in late 2008," said Donghoon Lee, senior economist at the NY Fed.
Since that peak, student loan debt has shot up $293 billion, while other debts fell a combined $1.53 trillion. Student loans have been the second highest form of consumer debt since the second quarter of 2010, behind mortgages.
Americans are also increasingly falling behind on their student loans. Long-term delinquency rates now stand at 8.69%, up from 6.13% a decade ago.
That's higher than the delinquency rates of mortgages, auto loans and home equity lines of credit, but still down from a peak of 9.17% in the third quarter of 2010.
And it's likely that the true delinquency rate on student loans is even higher.
"These delinquency rates for student loans are likely to understate actual delinquency rates because almost half of these loans are currently in deferment or in grace periods," said Wilbert van der Klaauw, a Fed economist.
Borrowers who are unemployed or still in school don't have to repay the debt right away.
The explosion in debt has led many to warn of a looming student loan crisis, though other experts say that education debt is manageable.
The median student loan balance is $12,800, according to a separate Fed report. About one-quarter of borrowers owe more than $28,000 and about 10% owe more than $54,000. Only 3.1% owe more than $100,000.
Some experts point to an increase in the number of students attending college as one reason why loans are on the rise. It's common for enrollments to rise during economic downturns.
Borrowing is also up as the cost of college rises. Some 90% of new student lending comes from the federal government, and the amount undergraduates can borrow is generally capped at $31,000.
Students are also rushing to take out debt for the coming year. If Congress does not act, interest rates on federal student loans, which were temporarily held at a low 3.4%, will revert back to 6.8% for the 2012-2013 school year starting July 1.
Overall, total consumer debt fell slightly in the first quarter to $11.4 trillion, a reduction of $100 billion. Aside from student loans, debt levels remained steady or rose slightly.
Mortgage originations increased $412 billion in the first quarter of 2012, but are still 17.4% lower than a year ago. Mortgage balances fell $81 billion, or 1%, and home equity lines of credit fell $15 billion, or 2.4%.
The number of open credit card accounts held steady at 386 million with a total balance of $679 billion, both about 22% below the 2008 peak.
Auto loan originations rose 2.1% to $72 billion, 43.6% above its first quarter 2009 trough.
Total delinquencies continued their downward slope, with some 9.3% of outstanding debt in delinquency, down from 9.8% a quarter ago.