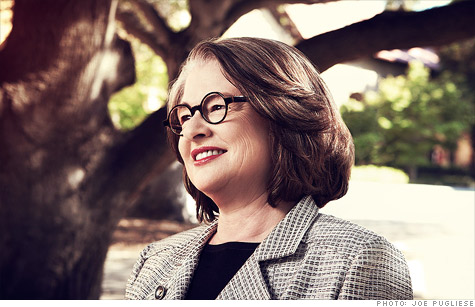 The best reason to rethink retirement, says psychologist Laura Carstensen, is that we'll be spending many more years in it and need financial security for the long run.
(MONEY Magazine) -- When Social Security was created in 1937, the average American lived to age 60. Since then, medical advances have added decades to life expectancy. Most 55-year-olds today will see their 82nd birthday.
Problem is, we haven't adjusted the way we work, the way we save, or the structure of our public programs to support these extra years, says psychologist Laura Carstensen, head of Stanford University's Center on Longevity and one of the nation's top researchers on aging.
In her newly updated book, "A Long Bright Future," Carstensen, 58, proposes actions for individuals, employers, and public institutions that, she says, will provide us financial security for the long road ahead.
Her other pet project: the just-launched Financial Fraud Research Center, a partnership with securities regulator FINRA that aggregates data and provides funding to investigate why older people are so frequently targeted by scammers. Her conversation with senior writer Donna Rosato has been edited.
You've spent a lot of time looking into the perceptions of aging vs. reality. What's the biggest myth?
At the top of the list is the Misery Myth, the presumption that older people are lonely, depressed, and discouraged.
In one study we had participants carry pagers and randomly asked them to report on their emotions. Older people reported as many positive emotions as younger people, but far fewer negative ones.
The data are striking on mental health disorders too. Anxiety, depression, and substance abuse are much lower in older people.
Great to know we'll be happier than we expect. But surely money plays into that. How can we make certain we'll be secure in our longer lives?
I cringe when I see headlines about most people not saving enough. Humans are very sensitive to social norms, and this makes people feel comfortable about doing nothing. But there are ways to get around our tendencies.
For starters, we must overcome the inclination to view old age as bleak. People who look forward to these years are more likely to save. We ask 5-year-olds what they want to be when they grow up, teens which college they want to go to, and young adults when they'll get married. But we ask few questions about our lives at 70, 80, or 90.
Another trick is to make an emotional connection to your future self. We conducted experiments with students in which we showed some of them what they'd look like at 60, then asked, "If you had $1,000, how much would you save for retirement?" Those who saw their aged selves saved twice as much as those who didn't.
You say that one way to take the pressure off savings is to work longer. Isn't that kind of grim?
No. The majority of Americans enjoy their profession, and older workers are the most satisfied. One problem we have is that we work too hard in the middle of life. We need incentives like phased retirement and flexible schedules. A more moderately paced career would allow you to work longer.
While many people intend to work past 65, half of current retirees left the workforce earlier due to poor health or layoffs.
Working longer isn't the solution for everyone. But it is for the majority.
In fact, more people over 55 are employed than ever, and 88% of people 65 to 74 are healthy enough to work. In terms of layoffs, we shouldn't conflate the problems of today's economy with the potential for working longer.
There are lots of needs older people are suited to address, like mentoring or starting businesses.
What about public programs? It doesn't seem as if they're set up to sustain our longer lives ...
I'm not a policy expert, but I have some ideas.
Raise the full Social Security retirement age to 80 to motivate people to work longer. But don't raise the minimum age, since we need to support those too sick to work.
Allow Social Security funds to be used before retirement, so you can take a few years off in your fifties or go back to school and retire later. Have a "paid up" category so that after 40 years of work, you and your employer don't have to pay payroll tax. That helps you save and gives the company incentive to keep you on.
And Medicare?
The biggest problem is that there are no incentives for anyone except insurers to save money. We must make sure Medicare covers only the most effective, cost-efficient treatments, so drug companies and providers compete to drive prices down.
We also need better incentives for individuals to be price-conscious and save for health care.
A lot of our readers are worried about their aging parents' ability to manage money. Now that you're looking more closely at elderly people and their finances, what do you think?
Many older people are doing just fine. They're independent as a cohort and are better prepared than the boomers. We tend to underestimate how much older generations know about finances.
Still, a recent Harvard study found that older people paid higher rates on credit.
While older people did pay higher rates, the study didn't establish why.
It could be because of the cognitive decline that comes with aging. People in their sixties and seventies do tend to be slower learning new things, have decreased concentration, and might have to read things over and over.
But these changes occur slowly throughout our lives, and the slope of the decline is just as steep from 20 to 30 as it is from 60 to 70. There could also be other reasons older people paid higher rates, such as their not wanting to bother haggling.
Is cognitive decline the reason elderly folks are so often victims of financial scams?
It's not the only reason. Early results indicate that they're targeted because they have more money.
Interestingly, the prototypical victim of investment scams is an educated white male with some knowledge of finance. He's more likely to stay in the conversation and think he knows enough not to become a victim.
Posen: Millions of Europeans face long slog
Lo: Why buy and hold doesn't work anymore

Hussman: The bailout that bruised capitalism

Mayo: Fix shareholder rights

Do you know a Money Hero? MONEY magazine is celebrating people, both famous and unsung, who have done extraordinary work to improve others' financial well-being. Nominate your Money Hero.