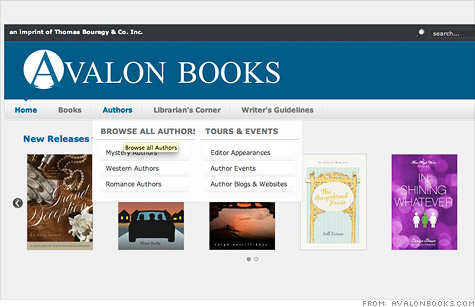 Amazon is buying small publisher Avalon Books and its backlist of 3,000 titles.
NEW YORK (CNNMoney) -- Amazon's book selection is about to get a little more romantic, mysterious and cowboy-fied.
Amazon is buying small publisher Avalon Books and its backlist of 3,000 titles. Avalon's books fall mainly in the romance, mystery and Western genres.
Amazon (AMZN, Fortune 500) made the announcement on Monday, the first day of the Book Expo America conference in New York City. Terms of the deal weren't disclosed, and Amazon representatives did not reply to a request for comment.
The move extends Amazon's ongoing creep deeper into the book publishing business. The company launched its first imprint in 2009, and now runs eight separate publishing lines. More recently, it began buying up rights from traditional publishers.
In April, Amazon bought the rights to publish 14 James Bond books in the United States. Late last year, it snapped up 450 kid-friendly titles from Marshall Cavendish Children's Books. While it expands on the catalog side, Amazon has also been inking deals with authors directly.
Avalon is a 62-year-old company, and it's stayed in the family since its founding in 1950. Avalon books haven't yet been digitized, but Amazon plans to add the titles to its Kindle e-reader platform over time.
Avalon publisher Ellen Bouregy Mickelsen -- whose father, Thomas, founded the company -- said she chose Amazon Publishing as the buyer in part because "they are uniquely positioned to assure that our titles make the leap forward into the digital future."
The Avalon books will also continue to be available in print. They'll be published under Amazon Publishing's "West Coast" imprints, including Montlake Romance and Thomas & Mercer.