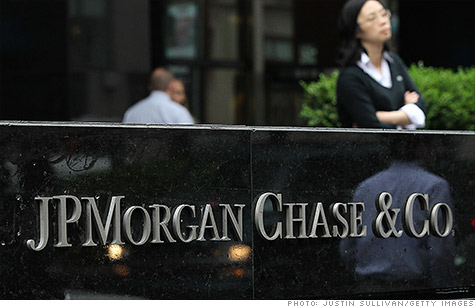 A federal regulator says a former JPMorgan Chase executive might have to give back some severance pay to help recover some of a $2 billion trading loss.
WASHINGTON (CNNMoney) -- A banking regulator is looking at the multi-million-dollar severance package given to JPMorgan Chase's outgoing chief investment officer to determine whether her pay should be "clawed" back.
Comptroller of the Currency Thomas Curry, the lead regulator charged with watching JPMorgan Chase (JPM, Fortune 500), will tell lawmakers Wednesday that his agency is looking at the pay of Ina Drew, the firm's chief investment officer who retired last month after revelations of a $2 billion trading loss.
"We are evaluating the compensation process of the CIO and will assess the bank's determination on 'claw backs' as part of that analysis," Curry says in prepared testimony obtained by CNNMoney.
He warned the agency is prepared to take "remedial measures" if needed.
One of the highest-paid women in the financial industry, Drew made $15.5 million in 2010. She spent more than 30 years at JPMorgan and is in line to receive $14.7 million severance in the form of stock, $2.6 million in pension benefits and almost $10 million in deferred compensation.
Curry said that his agency has 65 examiners at the behemoth bank and some of them are seeking more information about the credit default swaps that later resulted in the losses. Credit default swaps are a kind of derivative sometimes used to hedge against risk.
"Our examiners were in the process of evaluating the bank's current position and strategy when, at the end of April and during the first days of May, the value of the position deteriorated rapidly," Curry says in his prepared remarks.
Lawmakers have called regulators to Capitol Hill to question their role in failing to warn about the JPMorgan trading loss.
The news of the loss has renewed debate on Capitol Hill about financial reforms designed to stop big risky bets that could hurt the financial system.
Besides Curry, the Senate panel invited top regulators from the Treasury Department, the Federal Reserve, the Federal Deposit Insurance Corp. and Consumer Financial Protection Bureau.
After JPMorgan disclosed the loss, the Federal Bureau of Investigation and the Securities and Exchange Commission opened preliminary investigations looking into the matter.
JPMorgan's chief executive, Jamie Dimon, is scheduled to to testify on June 13 before the same panel.