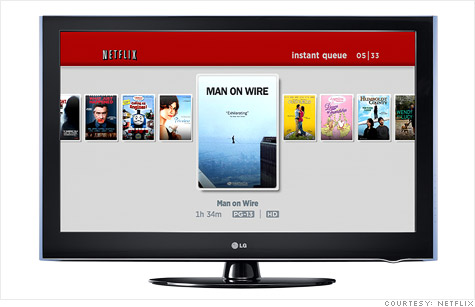 Netflix: Now brought to you by Netflix.
NEW YORK (CNNMoney) -- Netflix has one of the biggest Internet footprints of any company, yet for years it has essentially been paying rent on all that space.
The video service announced late Monday that it would like to become a land owner.
Netflix (NFLX) said it has created its own content delivery network called Open Connect. It's a series of servers, routers and fiber that can send Netflix video from the source to Internet Service Providers (ISPs) like Comcast (CMCSA), Time Warner Cable (TWC, Fortune 500), Verizon Wireless (VZ, Fortune 500) and AT&T Wireless (T, Fortune 500).
Previously, Netflix had been relying exclusively on third parties to deliver its content from its servers to ISPs. Level 3 (LVLT) had been the company's primary content delivery network since November 2010, but Netflix also relied on Akamai (AKAM) to handle some of its traffic. Shares of Akamai plunged on the news.
About 5% of Netflix content is now being served up by Open Connect, and Netflix said in a blog post that it expects Open Connect to eventually become its primary delivery tool. It will make the shift gradually, as its multi-year agreements with the third parties come to an end.
Why make the change? Netflix serves up just under 1 billion hours of streaming video per month, second only to Google's (GOOG, Fortune 500) YouTube. That amounts to petabytes of data -- millions of gigabytes each month -- sent over borrowed networks.
At a certain point, it makes sense to stop relying on landlords and buy the building yourself.
"The world's other major Internet video provider, YouTube, has long had its own content delivery network," Ken Florance, Netflix's content delivery chief, wrote in the company's blog. "Given our size and growth, it now makes economic sense for Netflix to have one as well."
It's a growing trend. Some of the biggest application service providers -- like Google, Apple (AAPL, Fortune 500) and Facebook (FB), which have built giant data centers to host their cloud services -- have become increasingly interested in buying their own content delivery systems and other tools known as Internet "backhaul." That can save money over time, and if something breaks down, they don't have to wait impatiently until some other company fixes it.
"You can buy backhaul from someone else, or you can build your own dedicated network that you control," says Basil Alwan, president of IP networks at Alcatel-Lucent (ALU). "Sometimes it makes sense to build your own network when you're moving massive amounts of data around."
Netflix estimates that its traffic makes up more than 30% of peak traffic on U.S. ISP networks. The company said its network will be cost-efficient for ISPs, and will allow them to host some content on their own local networks to reduce the costs of transporting all that video from Netflix headquarters to the ISPs' end users.