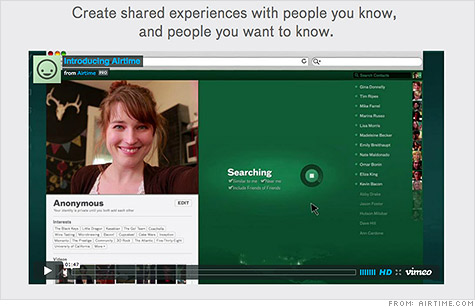 Airtime will let people chat live with their Facebook friends and meet others with common interests.
NEW YORK (CNNMoney) -- Former Napster founders Sean Parker and Shawn Fanning are teaming up again on a new venture: social video-sharing platform Airtime.
Parker, now a billionaire thanks to his sizeable stake in Facebook (FB), is one of Silicon Valley's biggest celebrities -- a role he relishes. Launching a new company with a quiet press release isn't his style.
Airtime's unveiling Tuesday morning in New York City was a star-studded affair filled with grand pronouncements.
"Why is the Internet so boring?" Parker asked the crowd, before offering up his own answer. "There's no room for serendipity. Everything now is filtered through the lens of your social graph, but the social graph is somewhat stifling."
Airtime aims to bring a sense of excitement and discovery to online connections. It's a real-time video chat network that integrates deeply with Facebook, which Parker called the one and only significant social graph. Airtime lets users connect with their Facebook friends, but it will also offer pairings with strangers based on common interests.
To illustrate how the service works, Parker enlisted a swarm of celebrities. He launched a video chat with Facebook friend Olivia Munn, who pulled rapper Snoop Dogg and comedian Joel McHale into the discussion.
Until it crashed. Glitch after glitch marred Airtime's first public showing, leaving the event's collection of celebrities riffing and improvising onstage while engineers tried to fix the bugs and revive dropped connections.
The site actually does work, early adopter Munn insisted to the audience of journalists and bloggers. "You have to go on it, then write your blog post," she said.
The concept is similar to Chatroulette, a site that made waves by connecting strangers around the world for video chats. At its 2010 peak, Chatroulette was one of the Internet's white-hot startup stars, but it quickly became a hotbed for indecent behavior.
Parker says Airtime has extensive safeguards in place to ward off a similar fate.
Tying the service to Facebook introduces a real-life layer that he hopes will keep people in their best behavior. As an extra protection, Airtime has a team of monitors on the lookout for "abuse cases," Parker said.
The much-hyped startup has raised almost $33 million from heavyweight investors, with a recent round led by Kleiner Perkins Caufield & Byers, along with Andreessen Horowitz, Accel Partners and Google Ventures. Early seed-stage investors include Ashton Kutcher, Yuri Milner, Ron Conway and Founders Fund.
Airtime is living its startup life at warp speed. Before even launching, it already made its first acquisition. In May it snapped up Erly, a social content-sharing startup created by former Hulu employees.
Both Parker and Fanning are serial entrepreneurs. In 1999, they started Napster, a peer-to-peer file-sharing service that popularized online music sharing and became a legal lightening rod. Hit with a crippling stack of copyright infringement lawsuits, the service was shut down in 2001. The brand name was later resurrected, but Napster died for good late last year, when it merged with on-demand music site Rhapsody.
Parker bounced back from Napster's meltdown with a string of new ventures. He played an integral role in Facebook's early days, serving as the company's president and helping CEO Mark Zuckerberg secure funding and structure the company.
Parker is also a board member and investor in Spotify, a streaming music service that Parker has called "realization of the dream" he had for Napster.