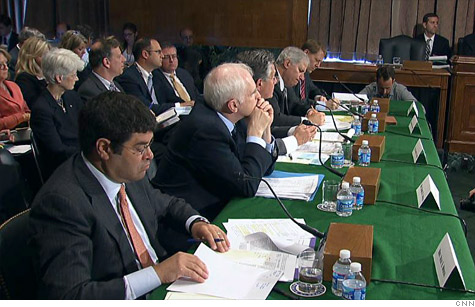 Regulators testify about JPMorgan Chase losses at a Senate Banking hearing.
WASHINGTON (CNNMoney) -- JPMorgan Chase's $2 billion in losses from risky bets can be blamed on "inadequate risk management," a federal regulator told a Senate panel Wednesday.
"We believe the issue was inadequate risk management within the (bank's) chief investment office," said Thomas Curry, Comptroller of the Currency, whose office had 65 on-site examiners at the bank when the losses occurred. "We're focusing on gaps, and looking to see if similar gaps exist" in other parts of the bank.
When asked by New Jersey Democrat Sen. Robert Menendez whether the Comptroller of the Currency had "screwed up" in failing to catch the losses, Curry said he was looking into it.
"We're going to critically look at that question," Curry said, adding that the review would be completed in the next "several weeks."
Regulators from the Treasury Department, the Federal Reserve, the Federal Deposit Insurance Corp. and Consumer Financial Protection Bureau all told the Senate Banking Committee hearing that JPMorgan Chase's losses didn't threaten the financial system.
Fed Governor Dan Tarullo said JPMorgan's capital cushion was able to withstand the losses, saying all the nation's major banks were much safer than they were three years ago.
But Menendez took the regulators to task for minimizing the losses at JPMorgan.
"I think the blood will be on all of your hands if the 'London whale' goes belly up next time," said Menendez, referring to the nickname of the JP Morgan trader who reportedly made the big risky bets. "What's to stop them from losing billions more next time? Or more significantly, for a less capitalized bank from (incurring) a loss that can bring it down?"
Lawmakers asked Curry whether he thought JP Morgan was really hedging risk with the trades or whether the bank was out to make a profit.
"That's the key question we're trying to address -- what actually happened in this particular investment strategy," Curry said.
Regulators were also asked about how the Volcker rule would have impacted the questionable JPMorgan trades. The rule, named for former Fed chief Paul Volcker, would bar banks from so-called proprietary trading, or trades for their own profit-making purposes.
The regulators agreed that while the Volcker rule will allow for some risk hedging, general portfolio hedging would not be allowed. Deputy Treasury Secretary Neal Wolin said hedging must be "associated with individual or aggregate positions" the firm has on their books.
Curry said, in his prepared testimony, that he would also be looking at themulti-million-dollar severance package given to JPMorgan Chase's outgoing chief investment officer Ina Drew to determine whether her pay should be "clawed" back in response to the $2 billion trading loss.