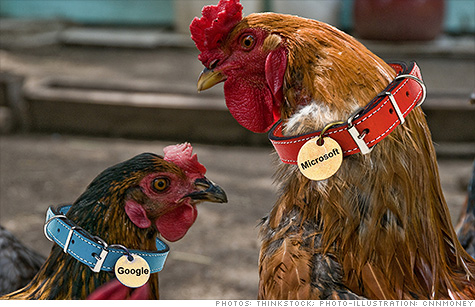 NEW YORK (CNNMoney) -- Microsoft and Google are playing a high-stakes game of chicken over the controversial practice of advertisers following online users' footsteps across the Internet.
The battle is over how to implement "Do Not Track," a soon-to-be-released Web browser button that opts a user out of data collection on websites across all participating advertising networks.
After many years of skirmishes and compromises, Do Not Track appeared to have a quorum behind it. The proposal is currently backed by all the major browser makers, the Obama administration, and roughly 90% of the country's advertising networks and publishers, including Google (GOOG, Fortune 500), Yahoo (YHOO, Fortune 500) and AOL (AOL).
Here's where it gets sticky: Microsoft (MSFT, Fortune 500) announced last week that it would become the first browser maker to turn Do No Track on as the default setting in its upcoming version of Internet Explorer, called IE10.
That flew in the face of a carefully constructed and fragile compromise between privacy advocates and the online advertising networks.
Though privacy advocates believe that users would be best served by automatically opting them in to Do Not Track, the advertisers have said they would only agree to Do Not Track if the default setting is "off."
On Wednesday, a working group at the standards-setting World Wide Web Consortium affirmed its previously held agreement that Do Not Track should only be turned on if a user deliberately decides to do so.
In other words, W3C is backing the exact opposite of what Microsoft has planned for IE10.
That clash puts the advertising networks in a nasty bind. If Microsoft launches IE10 with Do Not Track turned on by default, it would be a non-compliant browser. Do the advertising networks still honor IE users' requests not to be tracked?
No agreement was reached, according to Jonathan Mayer, a Stanford privacy researcher and Do Not Track technology developer who was on a conference call held Wednesday between Do Not Track's key players.
Google, Yahoo, and many other advertisers and publishers argued that they shouldn't, Mayer said. Their postion is that a default setting is not representative of a user's choice.
"It's not clear to what extent we'll get an agreement on this," Mayer told CNNMoney. "One of Google's representatives said on the call that the company will be able to do whatever it wants anyways. I'm stunned at how transparent some of these companies were -- they just want to minimize the number of Do Not Track users, period."
A Google spokesman declined to comment for this story, but he did not dispute Mayer's characterization that the company and many other advertisers wish to ignore IE10's Do Not Track requests.
That would be a bold and risky move.
Do Not Track participation is voluntary, but once a company signs on -- as Google has -- compliance is enforced by the Federal Trade Commission. Google and other companies that signed the industry's agreement could land in regulatory hell if the FTC decides that ignoring IE10's Do Not Track requests constitutes false advertising.
Microsoft noted that no final decision has been made by the W3C working group, and said it will continue to work with the organization on the issue.
"While we respect the W3C's perspective, we believe that a standard should support a 'privacy by default' choice for consumers," Microsoft Chief Privacy Officer Brendon Lynch said in a written statement.
A Microsoft spokesman declined to speculate on whether Microsoft would keep IE10's Do Not Track feature on by default even if that approach is deemed to be non-compliant with Do Not Track's official specification.
The irony of is that Microsoft and Google each play on both sides of this debate. They both make popular browsers and have large online ad networks.
Each has to make the choice: What matters more?
Microsoft appears to have consumers' backs on this one, but it also has a history of using privacy as a differentiator to try to keep its sinking browser market share from slipping even faster.
Meanwhile, Google -- the company with the famous "don't be evil" motto -- has had recent skirmishes with both Apple and Microsoft over its stealthy user tracking. It's also under the microscope in Washington, where the Federal Trade Commission is considering bringing sweeping antitrust charges against the company.
In this game of chicken, Microsoft and Google both hope they don't get run over.