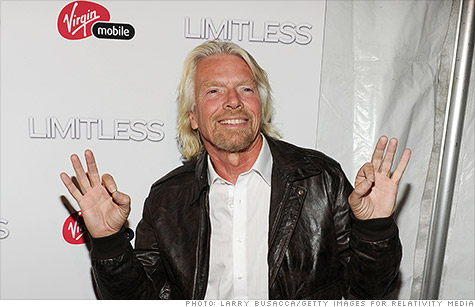 Why is Richard Branson smiling? Because he's got an iPhone, baby!
NEW YORK (CNNMoney) -- The iPhone -- once a closely guarded, exclusive prize for wireless carriers -- is going mass-market.
Virgin Mobile said Thursday that it has become the seventh U.S. wireless company to carry the iPhone. It's the second prepaid carrier in as many weeks to announce plans to sell the iconic smartphone.
That's a stunning turn of events for a device that AT&T (T, Fortune 500) held an exclusive U.S. lock on for nearly four years.
In February 2011, after years of top-level negotiations, Verizon (VZ, Fortune 500) joined the field and began selling the device. After that, the floodgates started to open. Sprint (S, Fortune 500) began selling the iPhone in October, followed by Mississippi regional carrier C Spire in November and Virginia regional carrier nTelos (NTLS) in April.
Last week, Leap Wireless' (LEAP) Cricket brand announced that it would sell the first prepaid iPhone. Now Virgin plans to add the device to its prepaid lineup on June 29.
Virgin will require its customers to pay the iPhone's full retail cost. That's a whopping $649 for the 16 GB iPhone 4S and $549 for the year-old iPhone 4.
On the flip side, it ill offer U.S. customers the cheapest iPhone plan -- $35 per month for 300 voice minutes, and a quasi-unlimited texting and data plan. Virgin defines "unlimited" as 3,000 texts and 2.5 gigabytes of data per month, after which it reserves the right to charge users more for violating its "fair use" policies.
The plan's price tag gets knocked down to $30 per month if customers sign up for online automatic monthly billing. That's $25 per month less than Cricket's prepaid plan and less than half the cost of the cheapest plans offered by the other carriers.
Most carriers subsidize the iPhone's cost, charging customers $200 upfront for the phone and making up the difference -- and then some -- over the life of a two-year contract. Cricket offers a modest subsidy that brings the iPhone 4S's price tag down to $500.
Virgin's plan offers customers the lowest total ownership cost of an iPhone over the course of two years. Including the device, Virgin's charges will total $1,370, compared to $1,720 on Cricket and an average of $2,775 on the other carriers.
Pre-paid is a huge, fast-growing U.S. market that Apple (AAPL, Fortune 500) hasn't played in so far. It's a field where smartphone sales are dominated by Google's (GOOG, Fortune 500) lower-cost Android platform.
Apple sold 109 million iPhones over the last four quarters, almost twice the number it sold in the previous 12-month stretch. Sustaining that kind of staggering growth rate requires Apple to keep finding fresh, untapped markets to colonize.
The decision to sell the iPhone is a financially fraught one for most carriers. It's the most popular smartphone with consumers, but it comes with the heftiest upfront subsidy. That money goes directly from the carries' pockets into Apple's -- and it can decimate their bottom line.
But not for Virgin, which will pay Apple no subsidy. That's good news for Sprint, which bought Virgin Mobile in 2009.
Sprint has a four-year commitment with Apple to sell a set number of iPhones. Sprint hasn't disclosed how many phones it's locked into selling, but it's a whopping number: The company previously estimated that it will spend $15.5 billion subsidizing its iPhone sales.
That giant sum will go down a bit if Virgin Mobile's iPhones take off. Sprint noted in a regulatory filing in Thursday that sales of Virgin Mobile iPhones will count towards Sprint's unit sales contract with Apple.
Virgin Group founder Richard Branson said that getting the iPhone is an appropriate way for Virgin Mobile to celebrate its 10-year anniversary this month of doing business in the United States.
"What better way to thank our fans for 10 years of loyalty than by giving them exactly what they want: the perfect plan for the perfect phone," he said in a prepared statement.