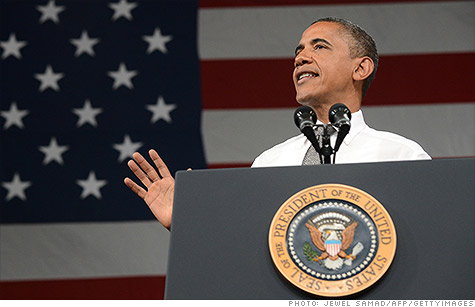 President Obama asked Congress to move on legislation designed to aid the economy.
NEW YORK (CNNMoney) -- Citing economic headwinds from Europe, President Obama asked lawmakers on Friday to revive a set of long ago-discarded legislative proposals designed to stimulate the economy.
The initiatives, first proposed in September, include investments in infrastructure, tax breaks for small businesses and funding for teachers, firefighters and other public sector workers.
Congressional Republicans declined to pass the measures last year, and until recently, the Obama administration had joined them in moving on to other debates.
But a series of dour economic reports -- especially on the labor market -- have sparked concern that the economy is starting to slow, and further fiscal stimulus may be needed to maintain growth rates.
Europe's debt crisis and the continent's resulting economic malaise are adding to worries, and Obama voiced concern on Friday that American exports may slow as a result.
The best course of action, Obama said, is for Congress to act.
"Right now," Obama said, "people in this town should be focused on doing everything we can to keep our recovery going and keeping our country strong -- and that requires some action on the part of Congress."
But this Congress, known more for its partisanship than its legislative abilities, is unlikely to heed Obama's call. Lawmakers will recess in July, and already face deadlines on student loan and highway funding bills.
They will return from recess to face the so-called fiscal cliff.
The "cliff" includes the expiration of the Bush tax cuts, middle-class protection from the Alternative Minimum Tax, and more than 50 "temporary" tax breaks for individuals and businesses that are set to run out.
It also includes nearly $1 trillion in blunt spending cuts across many areas of the federal budget. These would take a significant bite out of defense and non-defense spending.
A number of stimulus measures -- such as the payroll tax cut and extended unemployment benefits -- will also be ending. Congress must act before the end of the year.
Federal Reserve Chairman Ben Bernanke, speaking to members of Congress on Thursday, said the body should move quickly to resolve the issue.
Bernanke said going over the cliff would "pose a significant threat to the recovery." He added that uncertainty over the issue's resolution -- largely in Congress' hands -- could "undermine business and household confidence."
Despite the petitions from Bernanke and Obama, lawmakers are unlikely to move quickly on legislation that would provide further stimulus or certainty to markets.
Republicans find the prospect of further spending to be anathema, and election year politics is unlikely to allow for compromise. Every House seat, one-third of the Senate and the presidency are up for grabs in November.
Obama, perhaps acknowledging that his plea for action will fall on deaf ears, suggested Friday that Congress will be held accountable.
"If Congress decides despite all that that they aren't going to do anything about this simply because it's an election year, then they should explain to the American people why," he said.