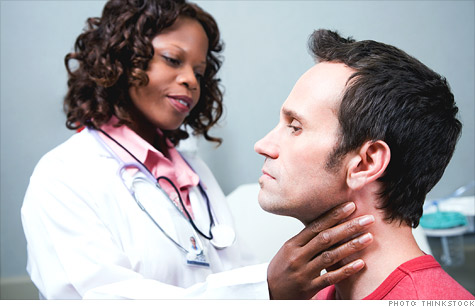 A survey found that young adults are skipping needed health care and racking up debt from doctor bills as medical costs rise.
NEW YORK (CNNMoney) -- Millions of young adults are forgoing necessary care and treatment because of rising health care costs, a report said Friday.
In fact, 41% of young adults between age 19 and 29 failed to get medical care in a recent 12-month period because of cost, according to a Commonwealth Fund survey. Among uninsured adults, the number rose to 60%.
They are not filling prescriptions, skipping recommended tests or treatments, avoiding doctor visits and failing to get specialist care they need.
"This reflects the high cost of medical care right now and health pl ans that may not cover people very well," said Dr. Sara Collins, vice president for affordable health insurance at the Commonwealth Fund and chief author of the survey.
And doctors are noticing that young adults stop listening to medical advice once they hear the cost of treatment.
"There's no question that young people have cut back on high-value screenings, doctor visits and therapies," said Dr. Mark Fendrick, director of the University of Michigan Center for Value-Based Insurance Design.
"You twist your knee playing soccer and you go to get an MRI. But if the doctor says you have to pay 50% of the cost, you're going to be less likely to go through with it," Fendrick said.
When young adults do get care, growing medical debt weighs heavily on them.
The survey found that 36% of 19-29 year olds reported problems paying medical bills or said they were paying off medical debt over time.
And 43% of those who had medical debt said they used up all their savings to pay their bills; 33% took on credit card debt; and 32% were unable to pay off student loans or tuition payments.
Further, 31% said they delayed education or career plans because of medical debt, and 28% said they had been unable to pay for basic necessities like food or rent.
Dr. Jeffrey Hausfeld sees the debt problem up close. He co-owns FMS Solutions, a collection agency that specializes in medical debt. He said he has seen a 50% increase in the amount of debt held by young adults over the last several years.
He cited "the tremendous cost shift" to patients caused by high-deductible insurance plans, co-payments and co-insurance, said Hausfeld, an ear, nose and throat doctor who no longer practices.
"Getting sick isn't something that a healthy 26-year-old expected to have to pay for. They didn't budget for it," Hausfeld said. "Now they're sitting with a $10,000 hospital bill and they don't know what to do."
The Commonwealth Fund said that a provision in the Affordable Care Act that enables young adults to remain on their parents' insurance plans until age 26 has helped more young adults access affordable insurance. The survey found that nearly half of respondents aged 19 to 25 stayed on or joined their parents' health plans since the provision went into effect in September 2010.
The U.S. Department of Health and Human Services estimated that about 2.5 million young adults obtained health coverage as a result of the provision. (Related: Doctors going broke)
The law, slated to be fully implemented by 2014, is currently under review by the U.S. Supreme Court and could be stuck down. The Commonwealth Fund predicts this would send young adults further away from medical care.
"If the law is struck down, the level of debt for young adults will continue to climb, and they will continue to worry about medical bills and not getting access to coverage," said Collins, the survey author. "It all really compounds the difficulties young adults are facing at a really critical time given the economic environment."