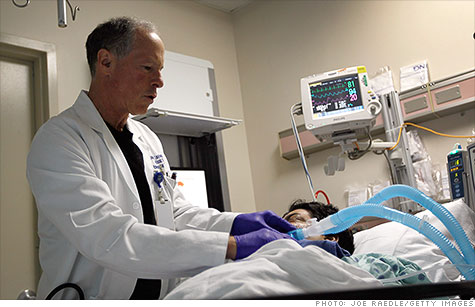 UnitedHealthcare, the nation's largest health care insurer, commits to keeping some key mandates regardless of Supreme Court's impending ruling on health reform.
NEW YORK (CNNMoney) -- The nation's largest health insurer promises to continue offering some key mandates of health care reform -- such as coverage of adult dependents up to age 26 -- regardless of how the Supreme Court rules on the health care law.
The Supreme Court, which is currently debating health care reform, is expected to announce its ruling later this month. Industry experts say the Court could uphold the law, overturn the law completely or overturn just some provisions of the law.
Ahead of the Court's decision, UnitedHealth Group (UNH, Fortune 500) said it will uphold several mandated provisions that have already gone into effect since health reform passed in 2010.
Among them, the insurer said it won't charge co-pays for preventive services, won't impose lifetime dollar limits on members' policies and will allow members to add their adult children up to age 26 to their plans.
The company -- which covers 38 million people -- also said it won't rescind insurance coverage of individuals who become ill, except in cases of fraud.
"The protections promote broader access to quality care and contribute to helping control rising health care costs," Stephen Hemsley, CEO of UnitedHealth Group, said in a statement.
"These provisions make sense for the people we serve and it is important to ensure they know these provisions will continue," he said.
UnitedHealthcare's decision, though, does not apply to large employers that self-insure and use the company only to manage their health plans. Most Americans are insured in such plans. In those cases, it's up to the employer whether to abide by the mandates.
Also, UnitedHealthcare did not commit yet to standing by another key mandate which has gone into effect -- offering coverage for children up to age 19 with pre-existing conditions.
The insurer said it doesn't want to stand alone in backing that mandate but wants to first see what path its competitors take on the matter.
Later Monday, Humana (HUM, Fortune 500), another large health insurer, said it, too, would stay committed to health care reform mandates such as not imposing a maximum lifetime dollar limit on medical care, coverage for adult dependents up to age 26, and no co-pays for preventive services.
"Humana believes its health plan members should have the peace of mind of knowing the company will maintain these common-sense provisions that add stability and security to health care coverage," the company said in a statement.
The company did not address offering coverage for children up to age 19 with preexisting conditions.
Humana could not immediately be reached for comment. Calls to other large health insurers, including Aetna (AET, Fortune 500) and Cigna (CI, Fortune 500) were not immediately returned.