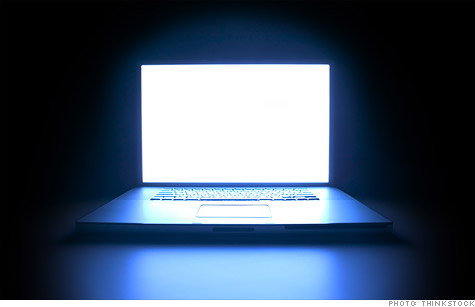 NEW YORK (CNNMoney) -- The .xxx Web domain was a controversial lightning rod -- both religious organizations and a porn industry trade group fought against it. Now, the company behind the adult-themed domain wants to launch .sex, .porn and .adult.
ICM Registry, which brought .xxx to the world in December, wants to score three new racy suffixes in the upcoming expansion of the Internet's generic top-level domains (gTLDs) -- the ".com" part of website addresses.
The full list of applicants, and their proposed new domains, will be announced on June 13. But the process doesn't end there: Several applicants will be battling for hot domains, which are slated to roll out sometime next year.
ICM CEO Stuart Lawley doesn't want anyone to steal his inside corner in the world of online adult content. If another applicant emerges for .sex, he's prepared to slug it out.
"We've been very careful and responsible in what we did with .xxx, and we don't want someone to take over what we've done as the incumbent," Lawley says. "We're trying to produce clearly identified content that doesn't confuse consumers."
ICM took pains to develop a "best practices" model in its launch of .xxx, he says, including daily malware scanning of its 200,000 registered sites; a "no-tolerance" policy on illegal content like child pornography; and a trademark-dispute process.
ICM is the back-end "registry" that operates the .xxx domain. To actually buy a .xxx domain, customers go through a front-end "registrar" like GoDaddy or Moniker. Those sites pay ICM a $62 annual fee per .xxx domain and add their own markup, bringing the typical cost for an individual registering an .xxx domain to around $100 per year.
Lawley is worried that if other companies snaps up TLDs like .sex, it will erode both the appeal of .xxx and the security methods ICM is trying to make an industry standard.
So ICM wants to buy .sex, .porn and .adult. If the company is successful, it plans to "grandfather" in domains that already have a site at .xxx. For example: the owner of women.xxx would automatically have a site reserved at women.sex, women.porn, etc.
Lawley expects that "only a small fraction" of the 200,000 current .xxx registrants will actually run their sites at new TLDs like .sex.
"It's not a profit center for us -- it's more of a defensive block," Lawley says. "A lot of our customers have said they don't want these names to be created. But if they are -- and there's no guarantee they will be -- we feel we'd be a suitable custodian and do this in a responsible way."
For those .xxx sites that do want to use their .sex sites (supposing that ICM gets the gTLDs it applied for), ICM plans to let them register for a "nominal fee." The grandfathering clause works only one way, for existing .xxx sites. A new site that registers on .sex would have to register on each domain suffix separately.
But Lawley doesn't think that's a likely scenario.
"Choosing .sex over .xxx would be like buying a Hyundai and leaving the Rolls-Royce on the shelf," he proclaims.
Lawley will have to wait until reveal day, June 13, to find out if he has competition. And with popular words like "sex," it's likely he will.
If two or more applicants want the same domain, they can first try to negotiate between themselves and come to an agreement -- one that will probably involve cash. Otherwise, the name goes to auction, which could end up costing millions for the winning bidder.
Either option is likely to be expensive, but Stuart says ICM is prepared.
"It's a serious business, and we have deep pockets," he says. "We have a long-term mission of presenting adult entertainment in a responsible way. We'll do all we can to make sure no new TLD interferes with that."